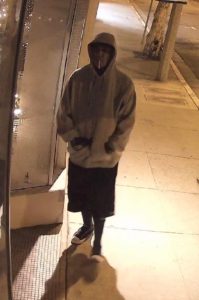 On Thursday, December 13th, a lone suspect broke into and robbed the Namba Performing Arts Space, 47 So. Oak St. The entire crime was captured on security cameras. The suspect smashed the front glass door, entered directly to Namba's box office area and left with a small donation box with less than $30 in it.
Namba is a non-profit organization serving our community with performing arts including music, dance, comedy, theatrical performances as well as community and civic events.
Police have not yet identified suspect. If you know who the individual is in the photo, please call Ventura Police at 805-339-4400 ext. 1169.
Jeffrey Willerth, Namba Director, said "While a smash and grab isn't in the spirit of our December holiday programming, we're thrilled nobody was hurt. Yes, only a few bucks were stolen but, like most local non-profits, we work really hard to raise every dollar to serve our community and it feels so unjust."