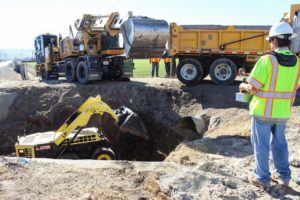 When a natural disaster hits such as a fire or a flood, preparation is always key to the survival of life and property and it's never too early to start. The Ventura County Public Works Agency (VCPWA) conducted Storm Day, an annual disaster simulation drill, on Oct. 18, which focused on preparation for flooding stemming from a natural disaster and infrastructure damage.
Storm Day 2018 simulated a severe storm and a scenario depicting emergency response to structural damage to local dams and underground water lines triggered by an earthquake. In light of the Thomas Fire and Montecito Mudslides, this year's exercise was created to assess VCPWA's preparedness to address similar, potential devastating events in Ventura County.
During the exercise, Public Works crews worked to clear out a culvert under Central Avenue that was clogged with thick mud utilizing a remote-control skid steer and excavator to clean out a bridge storm drain. Crews also practiced their flood fighting protection measures at Sycamore Dam and practiced installing and testing their portable emergency generators at the Silver Strand pump stations.
The annual exercise underscores VCPWA's role as first-responders. In floods, debris flows, fires, earthquakes, or any other emergency circumstances, VCPWA works alongside the Ventura County Sheriff's Department, the Ventura County Fire Department, and emergency medical personnel to provide critical infrastructure support and maintain public safety. The exercise is used to create severe but plausible scenarios to test agency emergency response. The Storm Day 2018 training mobilized VCPWA to its emergency Field Operations Centers, Department Operations Centers, and it's Agency Operation Center.
The specific objectives of the exercise included testing the agency's emergency response plans and processes, evaluating information and communication procedures, analyzing the efficiency of agency operation centers, and testing the process and procedures to respond to a local state of emergency. The drill also helps identify any areas for improvement in the emergency response plans.