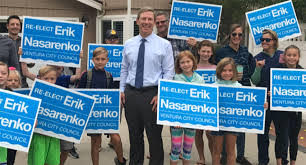 Ventura City Councilmember Erik Nasarenko was re-elected to the seven-member city council, finishing first among six candidates with 44 percent of the vote. His closest challenger received 24 percent of the vote in a contest that, for the first time in Ventura history, was decided by voters casting ballots in districts rather than at-large. The 48-year-old prosecutor was elected in District 4, which includes the communities of Hidden Valley, Ondulando, Clearpoint, Juanamaria, Hobart Park, Amador, The Farm, and neighborhoods stretching east beyond Wells Road to the county line.
"I am grateful to the voters for re-electing me and eager to get to work in addressing their issues," said Nasarenko. "Traffic, buckled sidewalks, high water rates and limited shopping opportunities for East End residents were among the issues I heard about the most."
While more than 100 rebuilding permits have been issued to date, Nasarenko also heard from Thomas Fire victims concerned with the slow pace of obtaining approvals, an area he pledged to work on and address. In October, the City Council allocated more money to hire outside consultants to assist with grading permits, an added resource that will assist the City's land development section and help to expedite certain rebuilding projects.
Nasarenko's campaign emphasized the public safety resources he funded during his first term, such as adding more police officers to patrol Ventura streets and the re-establishment of a roving fire engine staffed with licensed paramedics.
"Medic Engine 7 and the nine new police officers that recently graduated from the Academy are already making a positive difference in Ventura, including on the East End," commented Nasarenko.
He also discussed and campaigned on importing water to Ventura through the State Water Project, a 700-mile system of reservoirs, aqueducts and pumping stations that bring Sierra snowmelt to southern California. The City is currently conducting environmental studies on a 7-mile pipeline between Camarillo and the East End which, once complete, will enable Ventura to receive the new water.
"When we blend imported water with East End groundwater, District 4 residents will receive a higher quality, better tasting product," said Nasarenko, who added the connection should be completed in 2022.
"I really look forward to working with the new councilmembers, as well as our new city manager," said Nasarenko. "As they prepare to take the dais, I want to thank Mayor Andrews and Councilmembers Tracy and Monahan, who have given so much to make Ventura a special place. Their positive impacts to Ventura will continue well beyond their years of service to the city."