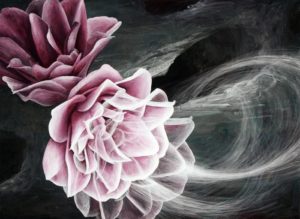 All of us at Focus on the Masters share the grief that has engulfed our community. The fires and the shooting at the Borderline Bar have personally affected members of our Focus family. Our hearts are heavy. We are postponing our documentation and Artist Spotlight Interview with Erika Lizée until our 2019 season. We are great believers in the healing power of the arts, especially during difficult times. But, the immediate needs of our loved ones and our communities are the priority. We also want to make sure that Erika's art students at Moorpark College – who are grieving for one of their own – would be able to attend.
We are on standby to assist artists in need of documentation of their work. FOTM also has free art supplies available to artists who lost their studios in the fire.
We all know from experience that love is mightier than fire and thicker than smoke. We will all get through these difficult times together.
Thank you for your understanding and tremendous support.
FOTM Board of Directors, Staff and Volunteers