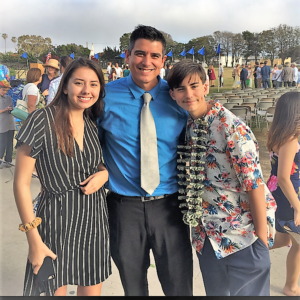 by Mat Almaraz School Board
As a parent volunteer for the past 14 years, and as a 20-year volunteer for American Youth Soccer Organization in this community, I am invested in this School District.
My 2 brothers and 4 sisters had my same experience going thru the same schools I did. I have had the amazing experience of going thru this amazing school system thru Portola, Anacapa and Buena. My passion comes through my volunteer work, my 41-year residency, having attended VUSD schools myself, and for the education of my children, 14 nieces/nephews and my future grandchildren.
My investment in the community:
• Two term PTO President at Mound Elementary.  I assisted in creating a new science technology magnet for the school
• Member of Parent Advisory Committee for Mound Elementary and DATA Middle School
• Member and Membership Chair DATA Middle School PTSA
• School site student representative for Buena High School 1995 and School site member for Mound Elementary
• Member of Inaugural Foothill Technology High School Booster Club
My goal is to give parents a voice on the Board and in the classroom as well as continue the district's innovative, unique great programs and support for all VUSD students. Also, to look at new ways to insure safety and security for our children.
My experiences through my life, the 9 different VUSD schools my children or my nieces and nephews have attended through VUSD, will guide me in continuing to steer VUSD to a great future. As my statement goes to all parents, Get involved, be involved and stay involved !!
Thank you and as Chris Prewitt would say. "Make it a great day"!!! Miss his inspiration and voice daily. But his love carries this district on. True hero.
Thank you,
Matt Almaraz Area 5 Board Member Trustee