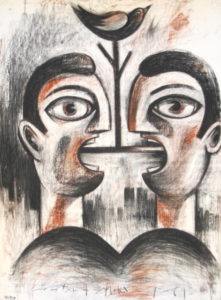 Vita Art Center presents Rafael Perea de la Cabada Birds on a Wire/ Pajaros en el Alambre. November 2- November 30 at 28 W Main St.
Pájaros en el Alambre /Birds on a Wire is a new body of work by renowned visual artist Rafael Perea de la Cabada. This exhibition explores our connection with birds in a symbolic, environmental, and philosophical manner through a variety of mediums, including paintings, drawing, works on paper, printmaking, photography, and ceramic objects.
Some interpretive text is provided by renowned animal ethologist and bestselling author Dr. Jonathan Balcombe. An inspired poetry reading by former Santa Barbara Poet Laureate David Starkey and friends will take place on November 30th at 6:30pm.
Rafael Perea de la Cabada lived in Santa Barbara since 1987 and in Ventura since 2015.