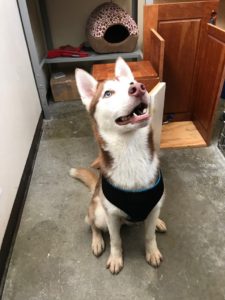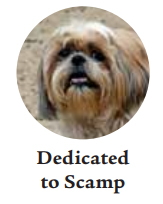 •Santa Paula Animal Rescue Center (SPARC) is in need of assistance for the care of Nanuk, an 11 month old male husky puppy with Megaesophagus. Megaesophagus is somewhat common for dogs. It is an enlargement of the esophagus—the muscular tube leading to the stomach—with decreased or absent motility. Motility the muscular activity that is necessary to move food and liquids through the digestive tract.
"Nanuk needs to be fed in a special chair in the begging position and then he must wait about 30 minutes for gravity to move the food down to his stomach," said Nicky Gore-Jones, Executive Director. "While this is not too difficult to accomplish, it takes some time and patience to feed him twice a day. It is not practical for us because of the commotion in our environment and the number of other animals we have in our care."
Nanuk is working with trainers this week to learn how to sit and be comfortable in his new chair. Other than the special feeding, this young pup can lead a relatively normal life and needs an active lifestyle. He loves to play ball and go for walks or hikes.
SPARC is seeking donations for his medical care and patient individuals with a calm atmosphere who are interested in either adopting or fostering the active young puppy. Donations may be mailed to the shelter or submitted electronically via the website at: http://www.santapaulaarc.org/donate.html.
Those who are interested fostering or adopting him should contact Santa Paula Animal Rescue Center at 805-525-8609. SPARC is a No-Kill, No-Excuses, 501(C3) city pound in Santa Paula where every single animal arriving gets a second chance at life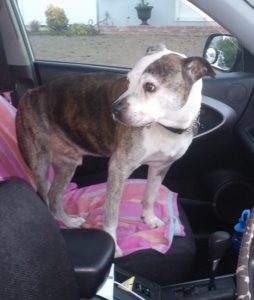 • The good news is that JohnPaul and Karen are moving to Ventura. The sad news is that they aren't able to take their dear 14-year-old English Staffordshire pooch to live with them. When Buddy came into their lives one year ago, they didn't know they we were going to have to move due to some family health needs. They certainly didn't know how difficult it was going to be to get a landlord who was willing to take their dear doggie, and couldn't find one.
Buddy is a lover to the core. And he is so, so easy to take care of. All he requires is a lot of loving/petting, a couple short walks a day and time to sleep and be with people. He has a stronger bladder than any dog they have ever had. He can go up to 14 hours in the house without having to go out. His license and shots are current.
If you know anyone who would love to have a gentle, healing and loving companion, please let them know at 708-257-8732 or 708-603-4482 .
• Millennials are having a love affair with pets — so much so that they're often putting their furry friends' needs at the top of their list when shopping for a home.
Luxury landlords have been catering to this millennial trend for years, putting in dog runs on rental tower roofs and pet salons off lobbies. Now more millennials are buying homes, and seeking the same amenities.
A full 73 percent of millennials currently own a pet, according to the American Pet Products Association. That is a larger share than any other demographic. For buyers it's even bigger. A whopping 89 percent of millennials who bought a home so far this year own a pet, according to Realtor.com.
And once millennials purchase a home, they often put big bucks into upgrades for their pets. One owner put $12,000 into her row house, adding a higher fence so her pets couldn't jump out and other pets couldn't jump in. She also added a modern pet door and renovated the basement bathroom for Lucy, even though the basement itself is unfinished.
She just wanted her house to be pet-friendly overall, not just for herself but for her friends, most of who also have pets. "I think I tend to connect more with other people with pets because we can do pet-friendly things together," she said.
By Diana Olick CNBC Real Estate Reporter