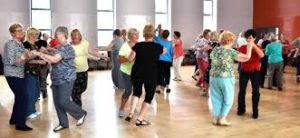 Physical activity is a great way for older adults to gain substantial health benefits and maintain independence. To make physical activity a routine habit, choose activities and exercises that are fun, motivate you, and keep you interested.
Keep It Going
If you can stick with an exercise routine or physical activity for at least 6 months, it's a good sign that you're on your way to making physical activity a regular habit. Choose activities:
You enjoy and believe you'll benefit from
You can fit into your schedule
You can do safely and correctly
That are affordable
That includes friends or family
Keep It Positive
Set realistic goals, regularly check your progress, and celebrate your accomplishments. These will help keep you on track.
Keep Your Eye on the Prize
Focus on the benefits of regular exercise and physical activity:
Greater ease doing daily tasks
More energy to do the things you enjoy most
Improved health
Better outlook on life
Find Activities You Enjoy
Some people like to walk on a treadmill at the gym. Others find that kind of activity boring. The key to sticking with exercise is to make it interesting and enjoyable.
Be creative. Do things you enjoy but pick up the pace. Do all four types of exercise—endurance, strength, balance, and flexibility. The variety helps keep things interesting!
Try some new activities to keep your interest alive. Let these suggestions inspire you to choose physical activities that match your interests!
Love music?
Take dancing lessons.
Sign up for an aerobics or dance class.
Walk briskly or jog and listen to your favorite tunes.
Enjoy the outdoors?
Play catch with your grandchildren or fetch with your dog.
Go hiking or rock climbing.
Grab a paddle and go canoeing.
Like being with others?
Join a soccer or basketball league.
Make friends in an exercise class.
Organize a walking group with friends or coworkers.
Want to be on your own?
Swim laps.
Spend an hour at the driving range.
Bike around your neighborhood.
Use an exercise video at home.
Feel the need to multitask?
Lift weights while you watch TV.
Do balance exercises while waiting in line.
Walk on a treadmill while you listen to an audio book.
Keep Track of Your Progress
The best way to stay motivated is to measure and celebrate your successes. You can find easy-to-use progress forms on the Go4Life website. Use these forms to:
Set and revisit your goals
Make an exercise and physical activity plan that works for you
Track your daily physical activity
Find new ways to increase your physical activity
Update your exercise plan as you progress