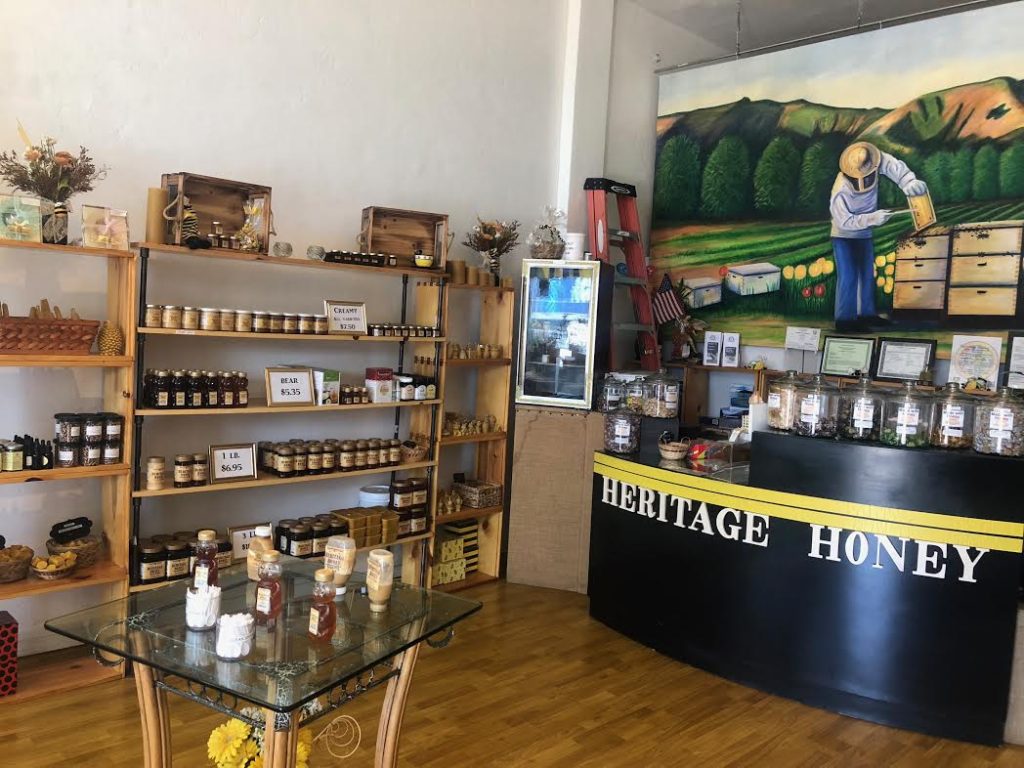 by Mira Reverente
Quaint, inviting and unpretentious, walking into Heritage Honey along Thompson Blvd. is akin to walking into a friend's or family member's home. Jars of honey and curio items adorn the neatly-arranged shelves. A swinging glass door filled with bees stand out. It is after all a business that is bee-focused.
Co-owner Marcelino Zavala asks, "Can you spot the queen bee?" To the untrained eye, it takes awhile to spot her so Zavala had to point out her majesty. There she was, lording over her hive.
A legacy of bees
Zavala's bees have a long, interesting lineage, having inherited them from Wailen Bennett of Bennett's Honey Farm in Piru Canyon. "He taught me everything about the beekeeping business," says Zavala of his mentor and former employer.
Not everyone starts out like Zavala. "Usually, hobbyists start out with a hive or two then go from there," says Suzanne Lamey, who is Zavala's business partner.
Lamey's expertise lies in honey production where she was a quality assurance manager for eight years. The two were employed by Bennett where they gained the knowledge about the honey industry in Ventura County.
The bee kingdom
Aside from the honey varieties, skin care products, candies, honey products and beekeeping supplies, it's a coop for local beekeepers and the only place that's a retail and packing facility in one, says Lamey.
"The beekeepers bring their honey here and we package and sell them. The retail side of Heritage Honey is just a bonus but the bulk of the business is in packing," she says, showing us around the pristine room where all the packing takes place.
Zavala also sells Nuc boxes, also known as a small colony of bees, and sometimes lends his expertise to beekeepers on swarms and other issues, for free. "I'll answer any question on the phone and If I'm free, I'll go out and check on their bee issues," he says.
Wasp are you talking about?
Good, ethical beekeeping practices are important. As an example, Zavala explains, "We don't feed bees during a 'honey flow.' Doing so affects the integrity of the honey," he says.
An all-terrain natural setting is also preferred, so the bees are exposed to less pesticides and parasites. Says Zavala, "Good honey is usually judged on color, taste and moisture."
Looking bee-yond
Probably immune to bee stings at this point, but not to small business challenges. "A good rain year is key to a good honey production year," says Lamey, citing a challenge that's tough to control but not unusual.
Unknown to many in the area, honey is an agricultural product so just like everything else in this agricultural region, weather needs to be on the growers' side. "Otherwise, we have great soil for pollination for crops like avocados," says Lamey.
Springtime is "bee season" but October to December are usually considered peak months in the business. However, the Thomas Fire last December also brought an unexpected slump in sales.
The duo feels optimistic about growth and getting the word out about their good reputation. Lamey says, "We just want this to be a gathering place for hobbyists, beekeepers and locals alike from all over Ventura, Santa Barbara and LA counties."
For more info: Heritage Honey is at 2031 E. Thompson Blvd.. Contact 805.641.0408, www.heritagehoney.org.