•SPAN Thrift Store is providing $10 spays and neuters for low income cat and dog friends. Two opportunities. New Location: Albert H. Soliz Library – El Rio, 2820 Jourdan St., Oxnard, on Friday, July 20th. Also in Ventura, in the SPAN Thrift Store parking lot 110 N. Olive St. (behind Vons on Main St.) Friday, July 27th. Please call to schedule an appointment 805-584-3823.
• Canine Adoption And Rescue League (CARL) Thrift Boutique will be re locating shortly to their
new location at 2750 E Main St. Ventura, next to Smart & Final Grocery store. This all volunteer store will continue to offer men's, women's, and children's clothing, household wares, and furniture.
All sales proceeds go toward maintaining rescue dogs in the best condition they are able to provide.
Please come and support the dogs at this wonderful new location.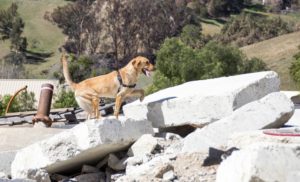 •Search Dog Foundation-Koda was originally rescued from a shelter by Lab Rescue OK, Inc. before being homed with a fellow firefighter who recognized his Search Dog potential and contacted Jason Smith, a former Handler in Oklahoma City with Oklahoma Task Force 1. Jason evaluated Koda and he quickly noticed this Yellow Lab's high drive and potential for work.
Sure enough, Koda is already proving that he has what it takes to be a great search dog! Working in barrels during training, he is using his nose to pinpoint the "victims'" locations and barking loudly. Even with food distractions, Koda is dedicated to his training, leaving delicious treats behind in favor of focusing on the search. This dedicated candidate has developed a nice, strong bark alert on the rubble that will serve he and his Handler well in the future!
The National Disaster Search Dog Foundation is honored to share that the Rachael Ray Foundation™ collaboration is at it again, actively supporting the recruitment of rescued dogs for their Class of 2018 training program and caring for them throughout their entire lives.
With a generous grant of $200,000, The Rachael Ray Foundation™ is leading the charge once more to help SDF give rescued dogs across the country a home and a job that they love. The goal is to raise $400,000 by August 31, and now we're already halfway there!
For almost a decade, Rachael Ray has been and continues to be one of SDF most generous supporters. A portion of proceeds from each sale of Rachael's pet food, Nutrish®, is donated to help animals in need through The Rachael Ray Foundation.
SDF is grateful to be among the organizations supported by The Rachael Ray Foundation and for the significant role their grants play in their capacity to recruit rescued dogs for the training program.
The Rachael Ray Rescue Brigade gives everyone the opportunity to join the mission of turning shelter dogs into Search Dogs. To donate go to https://searchdogfoundation.giv.sh/1170.
Founded in 1996, the National Disaster Search Dog Foundation (SDF) is a 501(c)(3) non-profit, non-governmental organization based in Santa Paula(even though it seems like Ventura). Their mission is to strengthen disaster response in America by rescuing and recruiting dogs and partnering them with firefighters and other first responders to find people buried alive in the wreckage of disasters.
National Training Center
6800 Wheeler Canyon Rd.
Santa Paula, CA 93060
888-4K9-HERO
•Dogs & Food Behavior
by Victoria Usher
Researchers in Hungary completed a study that have helped them discover that normal and overweight dogs both behave differently when it comes to tasks involving food. The researchers put down two bowls in front of a series of dogs, one bowl contained a good meal and another bowl next to it contained a less attractive meal. The study found that canines of a normal weight continued to obey instructions to check the second bowl for food, but the obese ones refused after a couple of rounds.
"We expected the overweight dogs to do anything to get best food for german shepherd puppy for , but in this test, we saw the opposite. The overweight dogs took a negative view," test leader Orsolya Torda said. The behavior had possible parallels with overweight people who see food as a reward," said the paper published in the Royal Society Open Science journal. According to the authors of Budapest's ELTE University paper, this study has suggested that dogs could be used as models for future research of the causes and psychological impacts of human obesity.
•How to handle a territorial dog, Establish yourself as the Pack Leader.
Dogs crave rules, boundaries and limitations. It is not a good idea to allow your dog to roam all over the house, sit on furniture, eat from the table, or engage in any other type of disruptive behavior. Although your dog is your companion, it is a follower in your pack, not a leader. You can reduce this type of behavior by asserting yourself as the pack leader by using calm, assertive energy. Make your dog earn food, water, and affection through exercise and discipline — exercise via two or more daily walks to drain her energy, and discipline through setting those rules, boundaries and limitations.
These types of issues are often exacerbated by a lack of training and discipline for your pet. If this seems to be a big problem, then you may want to consider an obedience class for your dog or speak to your veterinarian for some other solutions.
•Paw's Corner
By Sam Mazzotta
Dear Paw's Corner: I deliver packages on a long route around town every day. It seems that we've been inundated with warnings over the past few years about the dangers of leaving pets inside the car on a hot day while their owners go shopping or run errands. And yet, almost every day of the summer, I am calling emergency services or asking store managers to page customers because I see pets panting behind rolled-up car windows.
Please, please remind pet owners to leave their pets at home when they're running errands! — Concerned Delivery Driver
Dear Driver: I absolutely agree, and I thank you for insisting on this reminder!
Even on a day that doesn't seem too hot — say, 78 degrees — the interior of a car can heat to well over 110 degrees within five minutes. Now that we're in the hottest part of the year, that interior temperature climbs faster and higher and can reach 120 degrees easily. No pet can withstand such suffocating heat for long.
For short trips to the store or to run errands, leave your pet at home. If they must come with you (such as during long road trips), they should be left with an adult, and the air conditioning needs to be turned on.
Of course, a planned outing with your dog is a lot of fun just about any time. But always be mindful of the heat. Bring water for your dog to drink. Head home if your dog is panting heavily and not very active. And do not leave your pet in the car.
(c) 2018 King Features Synd., Inc.