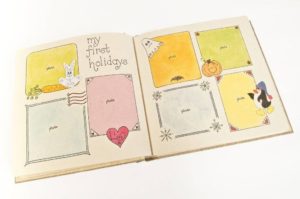 by Matilda Charles
I know what my project is going to be when it's too hot to go out this summer: I'm going to complete a Bio Binder Cherished Memories book.
The purpose of the 100-page Cherished Memories book is to leave for your family a record of all your memories. Better than that, however, is having the opportunity to think back over your own life, what your dreams were, how you got to where you are today, what you hope for your family, and more.
To see what the binder looks like, go to Amazon and search for "Cherished Memories." You'll see the option of using a Kindle version or the 3-ring binder. Click on Look Inside and scroll down the sample pages. It starts with an Introduction to show you how to use the book. Section 3 is about birth to age 12, where you write information about your childhood experiences and memories, what you did for fun, and school.
By Section 6, it gets into your personal values and the philosophies you want to pass on to others. Section 7 is My Favorites, and it's my own personal favorite section. It gives a place to document favorite animals (maybe the pets you had as a child), books, television shows, foods and more. There's also the option to add newspaper clippings, photos, letters and your family tree.
You don't have to start at the beginning — pick your favorite section and begin there.
Another way to approach this would be to create one of the binders with your parent. Just asking the questions themselves will open up lots of great discussions, especially if you include your own children in the project.
You can go directly to the seller at biobinders.com/bb_purchase.htm to read more about the binder and check out other companies that sell memory binders.
Old scams don't go away, and one of the scams that has come around again is the secret shopper scam. Most people like shopping, and if someone offers payment for it, many of us will try it. After all, it sounds like fun.
Secret shoppers often are hired by legitimate companies to visit one of their stores and make a purchase. Afterward you make a report on things like cleanliness, pricing, employee attitude and more. In response you might get either a free gift or a cash payment.
When it comes to scams, however, you're given the payment first. You'll be sent a check and will be told to cash it, and then go shopping immediately. You'll likely be told to "test" the service at the Western Union desk, or whatever location will transfer money. You'll be instructed to test the system by sending the money you've just received when you cashed the check. What you won't find out for a long time is that the check you cashed is no good. You used your own money to send a wire transfer, and you'll never get that money back.
Or you might be told to use the cash to buy a handful of gift cards. Again the check will bounce and you'll end up out of pocket for all that money.
Warnings: If you're ever asked to cash a check and send someone else the money, it's a scam. Don't ever pay to sign up as a secret shopper, even to buy a so-called directory. And don't fall for the certification fraud — you don't need a certificate to do secret shopping.
If you're interested in having a legitimate part-time job as a secret shopper, go online to mysteryshop.org to search their database of legitimate companies. Read more at the www.consumer.ftc.gov website about secret shopping scams.
(c) 2018 King Features Synd., Inc.