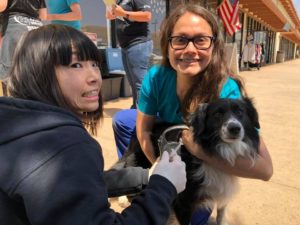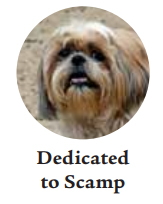 • On April 27 Animal Services provided a shot clinic for the homeless in front of the SPAN
Store in Ventura. They also provided leashes, collars, food for yorkies and flea meds. Over 61 animals were served. Some of the homeless had up to 3 animals. It was for the homeless so the flyers were put up at Catholic Charities and other spots where the homeless go to seek services. SPAN is also working with Simi Valley Spay Neuter Clinic to have 2 mobile spay days a month.
•The Humane Society of Ventura County invites the public on Saturday, June 9, and get a behind-the-scenes look at its Ojai animal shelter, learn more about its programs and meet the people who run it.
The HSVC's annual "Birthday Bash and Open House" will honor its 86 years of nonprofit service to the community. The event will run from 10 a.m. to 3 p.m. at the Ojai facility, at 402 Bryant St.
Visitors that day can interact with the animals – who will be available for adoption – tour the kennels and clinic, meet the staff, and learn about volunteer opportunities. Bring the whole family to enjoy refreshments, take part in a treasure hunt and learn more about how you can make a difference in the lives of animals in need.
There will be a variety of activities for children along with information on responsible pet ownership. Humane officers will be available to discuss ways we all can help protect animals throughout the county.
"The Humane Society of Ventura County has accomplished quite a bit, when you add the numbers up," said Greg Cooper, Director of Community Outreach for the HSVC. "Considering our meager budget as a private nonprofit, the HSVC continues to provide valuable services to Ventura County in an extraordinary way."
For more event information 646-6505. For more on the HSVC, visit www.hsvc.org.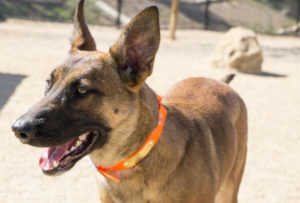 • Amber is from a private donor in Fillmore. This gorgeous and sweet-natured Belgian Malinois has been stealing the hearts of trainers and staff alike at the National Disaster Search Dog Foundation.
Amber has started to learn the search "game" and is working concurrently on Agility, Obedience and Direction & Control. All in all, Amber is quick on the uptake and has a blast training – a winning combination when it comes to being a Search Dog!
Amber grew up in a family of public servants and was very proud to serve her community as a 911 Public Safety Dispatcher for the Ventura Police Department and as a Tactical Dispatcher for the VPD SWAT Team.
Founded in 1996, the National Disaster Search Dog Foundation (SDF) is non-profit, non-governmental organization based in Santa Paula. Their mission is to strengthen disaster response in America by rescuing and recruiting dogs and partnering them with firefighters and other first responders to find people buried alive in the wreckage of disasters.
It's not a matter of if, but when the next natural or man-made disaster will occur. To stay prepared, Canine Disaster Search Teams must constantly hone their skills through rigorous training exercises – and what better place to do that than SDF's National Training Center, specifically designed for Disaster Search Dogs and their Handlers.
The NTC is open to any and all teams from across the U.S. and the world who want to train for disaster response. Designed with training props that can evolve and change, NTC allows trainers and teams to create different search situations that mimic various disaster situations.
SDF headquarters 6800 Wheeler Canyon Rd., Santa Paula, CA 93060 888-4K9HERO Tax ID #77-0412509.
•Top Cabaret and Jazz singers and songwriters will perform at a benefit concert and fundraiser for All For Love Animal Rescue on Saturday, June 2, at Bogart's Upstairs, inside the AMC Theatres at the Oaks Mall, in Thousand Oaks. The event features special performances by award-winning singer/songwriter Amanda McBroom and Jazz legend Sue Raney. Other performers include the singing duo, Maripat Davis and Richard Osborn, and well-known composer-pianist Shelly Markham.
Amanda McBroom has been called "the greatest cabaret performer of her generation, an urban poet who writes like an angel and has a voice to match," by the New York Times.
Sue Raney was signed by Capitol Records at the age of 17, and recorded her first album called When Your Lover is Gone, with Nelson Riddle.
All proceeds from the fundraiser will go to All For Love Animal Rescue (AFLAR), a 501c3 nonprofit animal rescue organization. AFLAR has rescued hundreds of homeless animals and placed them in loving, forever homes. AFLAR focuses on rescuing animals in the most danger of euthanasia, and depends 100% on charitable donations to rescue, board, and provide medical treatment for the many animals they save.
The event will also feature a silent auction with many items to bid on, opportunity drawings and door prizes, and complimentary snacks and desserts. Tickets for the event are $25 in advance, and $30 at the door. Seating is limited, and reservations are recommended. For reservations and tickets, call 445-3535 or purchase tickets at www.AllForLoveAnimalRescue.org/fundraiser.