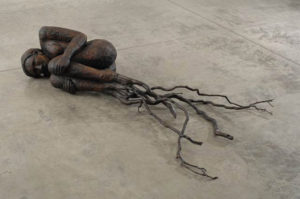 A conversation with Alison Saar Sunday, May 27, 3 to 4:30 p.m.
Oxnard's Levity Live at The Collection 591 Collection Blvd.
Can artists help us understand and deal with complex issues of the day? Alison Saar uses bold symbolism, literature and mythology as she explores the role of African-Americans, especially African-American women, in our society and our consciousness. A native of Los Angeles, Alison Saar was born to well-known African-American artist Betye Saar and Richard Saar, a mid-century modern ceramicist and art conservationist.  To learn about Alison Saar, visit www.LALouver.com
Free to FOTM members, $15 for public; $10 for seniors.
The Artist Spotlight is open to students attending as a class assignment free of charge. FOTM is happy to assist with tracking attendance and sign-in sheets. Reservations required.
To RSVP visit www.FocusOnTheMasters.com or call 653.2501.