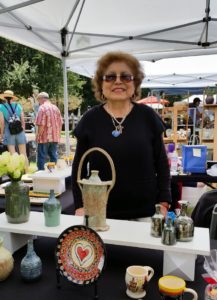 Ventura County Potters' Guild 61st Anniversary Annual Potters' Guild Show Libbey Park, downtown Ojai.
June 9 &10, Saturday 10 – 6 pm Sunday 10 – 5 pm
The Ventura County Potters' Guild is a collective of ceramic artists is made up of professional and recreational potters and ceramists; instructors from local high schools and colleges; as well as people with a passion for ceramics. The VCPG began with ten Ventura area potters who came together in 1957 to form a potters' guild.
This year's spring sale will be their 61st anniversary of celebrating the Guild's fine ceramic artists. Various Guild members will demonstration during the day. For more information, call 985-5038.
In July 2010 the VCPG opened its first full-time gallery located in Ventura Harbor at 1567 Spinnaker Drive. The gallery currently features 32 juried VCPG members who take turns working shifts and selling their wares.The Guild has grown from the original 10 to more than 135 members and has expanded beyond Ventura to represent much of southern and central California.