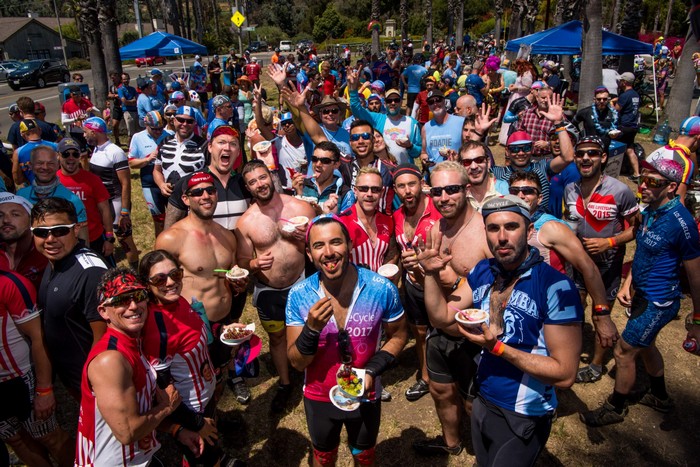 In a couple of weeks, more than 2,300 cyclists and 650 volunteer "roadies" who support them, will journey 545 miles for seven days to raise awareness about the AIDS epidemic.
It's a life-changing ride—not a race—through some of California's most beautiful countryside. AIDS/LifeCycle is co-produced by the Los Angeles LGBT Center and San Francisco AIDS Foundation and is designed to advance their shared interest to reduce new HIV infections and improve the quality of life for people living with HIV/AIDS.
Thousands of cyclists and volunteer "roadies" will embark on a 545-mile journey from San Francisco to Los Angeles, from June 4 through 10, united by a common cause: fighting to end HIV/AIDS.
Over 2,200 cyclists will camp overnight at San Buenaventura State Beach on the way to Los Angeles. They will also hold their annual Candlelight Vigil to remember those who have died from AIDS.
The HIV/AIDS epidemic is far from over. Currently there are 1.2 million people living with HIV nationwide and an estimated 39,000 will become infected this year.
Ventura schedule:
Friday, June 8: Lompoc to Ventura for a stay over
Saturday, June 9: Ventura to Downtown Los Angeles
Some of the participants:
Adan: This 22-year-old wants to inspire other young people to help end AIDS. As an employee of an HIV clinic, he has observed firsthand how HIV and AIDS disproportionately affect the Black and Latino communities.
Andrew: An active Army captain, he is co-captain of Team Outserve comprised mainly of U.S. military personnel united to help end AIDS. His 24-member team hail from nearly all branches of the U.S. military.
Bobbee: As a transgender women living with HIV, Bobbee wants to put a face to a segment of the LGBT community that's at high-risk of becoming exposed to the disease.
Isabeau: She was raised in a four-parent LGBTQ family. When she was a teen, one of her fathers died of AIDS-related complications and, years later, her other father's best friend also passed away to the disease. This first-time participant is riding in their memory.