To opinions
I made the rally and march Saturday and have to say, Venturans' are the most polite and carefully lead community I have meant in a long time. We stayed off the street and waited for every street crossing light and stop sign. By the time we got back to the park, we were essentially spread out single file. I can't believe that would get anyone's attention. I would never advocate for any violence, of any kind. However, making cars stop and staying in a powerful group makes a statement. I was told we didn't have a permit. Well, we can't all be arrested. We need to understand civil disobedience and march to be heard.
Chris Rae Ventura
---
Editor:
I have just one question that perhaps you have already answered in the paper. What happened to Ventura Hardware? I hope you have an answer. They were there one day and gone the next.
Bill Garner
Bill:
They just decided after many years there that it was time to retire and close down. Was a great store because they had one of everything.
---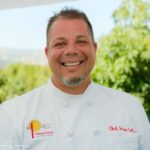 Oooops, in our last issue we incorrectly labeled this photo it should have read "Chef Jason Collis of Plated Events"
---
Many of us spend half of our time wishing for things we could have if we didn't spend half our time wishing.
~ Alexander Woollcott