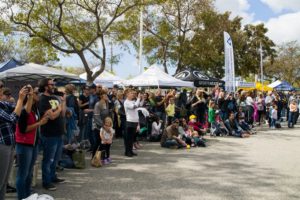 On March 24, the City of Ventura's 29th Annual Corporate Games kicked off with opening ceremonies Community Park located at 901 S. Kimball Rd. Deputy Mayor Matt LaVere officially opened the games during the torch lighting ceremony .
The Corporate Games opening ceremonies highlighted its 2018 theme, "Where Work Meets Play", with a business and fitness fair from 10 am to 2 pm. Those attending enjoyed live music, dance performances, demonstrations, jolly jumpers, interactive games, arts and crafts, food trucks and more.
Eighty Ventura and Santa Barbara County businesses will participate in the six-weeks of friendly competition. The actual games to be played on this day were canceled due to the soggy grass from the previous two days rains.
Photos by Bernie Goldstein