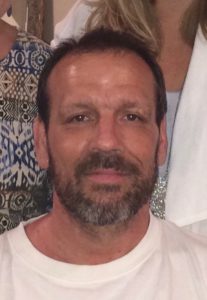 Jeffrey Alan Suggs, 53, of Ventura, passed away on Friday, March 2 after a long struggle with cancer. Jeff was born in Los, Angeles, on March 24, 1964 to Russell L. Suggs and Barbara J. Suggs. He attended elementary and jr. high school in South Pasadena, CA and finished his education in Ventura, earning his GED.
He enjoyed surfing, fishing, motorcycling, and camping. He worked offshore and in local construction until disabled in a motorcycle accident. He is survived by his mother, Barbara Suggs, sister, Julie Powell and her husband Harold, nephew and niece Cooper and Lauren Powell, and many aunts, uncles and cousins. He was preceded in death by his father Russell Suggs and brother, Greg Suggs.
The family wishes to extend their appreciation to Assisted Home Health Care and Hospice in Ventura for their compassionate care, and to family and friends for their expressions of love. A memorial service will be held on Saturday, March 24 at 2:00 pm at The River Community Church, 889 E. Santa Clara St. In lieu of flowers, please donate to The City Center transitional living program in Ventura at www.thecitycenter.org.
Arrangements are under the direction of the Joseph P. Reardon Funeral Home & Cremation Service, Ventura.