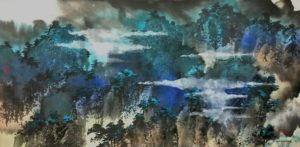 Arts & Eats will be held in downtown Ventura on Saturday, March 17 from 6 – 8pm. Fifteen galleries, restaurants and shops open their doors for art receptions and complimentary tastes. The event is free to the public.
Christine Leong and Andrea Vargas will display their art at Fox Fine Jewelry from March 15 – May 13, with an Art Reception on March 17 from 6 – 8:00pm. Musician Corinn Conant will sing and play guitar during the reception.
"A Line In the Sand" is a collaboration between Christine Leong and Andrea Vargas. Their friendship is unique in that they work on pieces of art together, combining different mediums and techniques. Usually, one will work on the background before giving the piece to the other to complete the artwork. In "A Line in the Sand," they again co-create, showing us just what makes Ventura home.
Christine Leong, from Hong Kong, has a special talent for painting Koi fish and florals on rice paper. She has been using rice paper for 30 years, and recently has explored and started painting wearable art on raw silk.
See the website for gallery shows info:
http://www.foxfinejewelry.com/event/article/arts-eats/