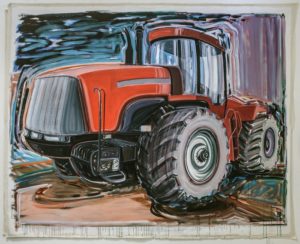 A Conversation with Karen Carson
Sunday, March 25 – 3 to 4:30 p.m.
Oxnard's Levity Live at The Collection
591 Collection Blvd.
To learn about Karen Carson visit www.KarenCarsonArtist.com
Karen Carson, a major figure in the Los Angeles feminist art movement, has employed varied techniques and materials to reflect and comment on the turbulence of everyday life. She is concerned with both what can be a dangerous natural world and an equally disturbing world of politics and world events. Donna Granata's conversation with Karen Carson will trace the development of an artist whose oeuvre takes us from abstract zippered canvases, tableaux with feminist themes, the muscular tractor series, and to her current exploration of form and color on bas relief wood.
The Artist Spotlight and panel discussion is open to students attending as a class assignment free of charge. FOTM is happy to assist with tracking attendance and sign-in sheets. Reservations required.
To RSVP visit www.FocusOnTheMasters.com or call 653.2501.
Join us for a celebratory dinner at the Vita Art Center hosted by Ginny Furmanski and The Old Broads Catering Company immediately following the Artist Spotlight Interview. Paid reservations are essential and required prior to March 20. We expect this AfterGLOW to sell out.
$30 FOTM members, $40 Non-members.
Maps will be given to paid guests at the interview.