Editor:
The fellows at Under the Bed (UTB) want to give a shout-out to Lynn Mikelatos of The Greek Mediterranean Steak & Seafood at the Ventura Harbor, thanking her for her role in collaborating with City Core to donate a piano to UTB, Ventura's new DL production space for contributing artists to create, share and expand their personal vision through collective action. UTB is affiliated with Art City as an extension of the city's cultural past, present, and future. Lynn's kind thoughts and generosity actions are most appreciated.
Sophia Kidd-Ventura
---
Breeze
The streets, alleys and road markings in the city of Ventura leave something to be desired. It shouldn't be a, take your life in your own hands kind of experience, each time you get behind the wheel.
Where did all the money go after two recent tax increases on gasoline?
I feel like I'm driving in a third world country, bouncing over ruts that could swallow an old VW. That's why I drive a truck.
East Main Street between Ventura Avenue and Olive has so many ruts. It causes extreme shaking, rattling your brain and teeth, too.
Some oil companies made billions extracting oil in California only to file bankruptcy, leaving us, the tax-payers, to pick up the tab to clean their messes left behind. The man-made island and the oil wharf up on Highway 1 is one example. So now there's little money left to take care of our much needed infrastructure repairs.
We can complain about higher gasoline prices in California, while Arizona has cheap gas, about a buck a gallon less. Want to move?
We have to rise up and demand that this sorry situation be remedied.
Begin to restripe the streets. That would be a start.
Bicycles?—don't get me started. Please obey all traffic laws by riding on the right in single file and at night wear light clothing. Also, add a red blinking light at the rear and a white light up front— a bell helps warn unsuspecting walkers along the roar. The life you save will be your own.
James Francis Gray -Ventura
---
Hi Sheldon,
I just wanted to reach out and say thanks to you and your staff for running my event listings in the Breeze. I really appreciate that you get the details right and know how to make an events calendar look and sound appealing. As both a senior and an environmentalist I also appreciate the space you give to our concerns and I'm glad you gave David Goldstein's important column a home.
Best,
Lanny Kaufer HerbWalks.com
www.facebook.com/HerbWalks
---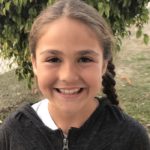 The bad news is that in our last issue we spelled her name wrong. It is Maria Castor, not Marcia Castor.
The good news is that her photo has now been in the Breeze two times.
---
A mistake repeated more than once is a decision.
~ Paulo Coelho