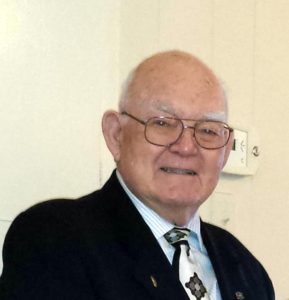 John spent 18 years as a Trustee of the Community Memorial Hospital. He was Chairman of the Community Memorial Hospital Benefactors and an Executive Board member Community Memorial Health Care Foundation. John joined the staff of Community Memorial Hospital in 1992 as Vice President Community Relations. He remained for 25 years retiring at the age of 81.
His accomplishments were very many. These are just a very few of them.
He was President and Founding Member of the El Cien Dance Club and served on the Ventura Grand Jury in 1969. He was a founding member of the Ventura College foundation and was deeply involved with local school sports serving as President of the Ventura College Booster Club, Chairman of the Ventura County Stanford Buck club and founding member of the St Bonaventure Booster Club. He was a great supporter of the Ventura Boys and Girls club and he was a member of the Ventura Boy Scouts council.
John was also a published writer. He wrote a column for the Star Free Press "Wheels" section for 10 years winning "Best Business Column" from The L.A. Press Club in 1993. He was a member of the Greater Los Angeles Press Club and the Motor Press Guild and contributed pieces to various automotive publications. In addition, he wrote an occasional piece for the Santa Paula Times on the theater called "Masterson on Stage". He was a Board member of the Santa Paula Theater Center.
John pursued his love of the theater, appearing on stage in over 25 productions in Ventura, Santa Paula and Camarillo. He was versatile – taking parts in musicals, drama and comedies. It didn't matter if he was the lead or in the supporting cast.
John produced the weekly Western Automotive Consultant (WAC) report. He was Executive Director of the Ventura Auto Mall Dealers Association and spent 5 years on KVTA radio hosting "Auto-Talk" with Ross Olney as his partner.