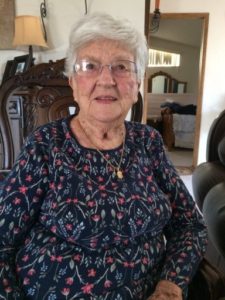 "I am only one, but I am one. I cannot do everything, but I can do something." These words by Edward Everett Hale clearly reflect the attitude of LaVonne Askay as she returns to volunteer for Community Memorial Hospital's Auxiliary.
Askay began working as a volunteer in 1978 after retiring from the Ventura Unified School District. She served for 40 years as a flyer, front desk receptionist, and was on the board of directors for two terms. It was not until her husband's illness required her to spend more time at home that she had to move from active to sustaining/inactive status.
Now, several months after her husband's passing, Askay, at 96 years young, has returned to active service in CMH's Auxiliary. It is natural to ask the question, why? "I don't want to waste my time, and I want to give back to my community," was her quick response.
Askay's favorite part about being a volunteer was meeting the wonderful people who came into the hospital and working with the other volunteers. It was the friendships with her fellow volunteers that helped sustain her during her husband's illness. "You always get more than you give," reflected Askay. "The Auxiliary is a wonderful group to work with and I am proud to be a volunteer," said Askay.
LaVonne Askay is proof that there is no age limit on being a volunteer. CMH's Auxiliary offers a variety of ways to serve our community and the hospital. As Elizabeth Andrew put it, "Volunteers don't necessarily have the time, they just have the heart." Do you have the heart? Come join our team of volunteers as they strive to provide comfort to patients and their families while furthering the best interests of Community Memorial Hospital.
Applications are available at CMH's front desk.