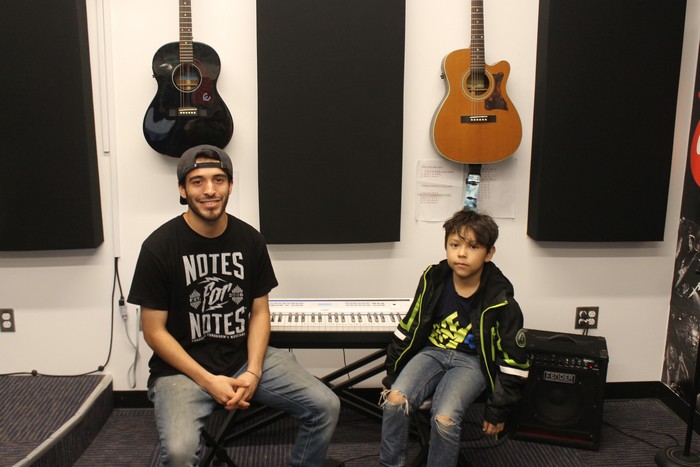 Notes For Notes was the brainchild of Santa Barbara resident Phil Gilley about 11 years ago when, being involved in a Big Brother, Big Sister program he imagined a room full of musical instruments where kids could come in and play them, many for the first time. He had a kid who asked about how he could get to play an instrument. So, Gilley and others decided to create a program that would not only bring kids together with instruments, but also create an environment for teaching and letting the kids just play. The initial operation in Santa Barbara was piggybacked onto The Boys and Girls Club. Ventura, because of its fortunate placement between Santa Barbara and LA, became an early recipient of the programs expansion plans.
Since launching eleven years ago Notes For Notes is now operating these programs in over 20 locations around the country, including Ventura. Alex Kies is area director for Southern California and says "While they are not exclusive to Boys & Girls Clubs, 18 of the 20 are located within them. Like an embassy inside their space." Ventura is the smallest market to be fortunate to have this program. Partially due to proximity to Santa Barbara but also because there was funding from local backers like attorney Jim Cole and later Squashed Grapes and others who formed a local "Soundboard" to fund financial support and generate activities like field trips to local music stores.
The latest extension of the program has been to create small recording studios within the club locations. The Ventura Club has such a studio located in the Boys & Girls Club at 1440 North Olive Street and managed by Fernando Franco, who is eager to welcome youngsters to their program. Everything is free, and tailored to the needs of the individual child. All you have to do to involve your child is to go there and sign up. Ventura's program is aimed at kids 6-12. In other markets like LA, most of the participating kids are older.
Much of the financial support for Notes For Notes studio projects comes from Hot Topic, which donated an initial $25,000 for studios and the CMA Foundation has funded them east of the Mississippi. Included in recent developments are four new studios in the New York area and others in Chicago, Nashville, and San Francisco among others. Ventura is fortunate to be on this short list.
When a child comes to the facility on N. Olive Street, they determine their own plan for what they want to accomplish. If it is banging on drums, a very popular one, or writing a song, or recording one, they can get individual help and encouragement from Franco and the staff. "Kids here want to be loud, so there's lots of drums and banging around", says Franco. There is no rigid curriculum so freewheeling experimentation is just fine.
Looking to the future Franco and Kies hope to see a youth band evolve that could perform in the area comprised of kids under 18. Making a recording free is another enticing option for a kids group.
Sponsorships also play a role with major companies like Gibson, Fender, Zildjian and Sony all making donations. The primary instruments used in the program are "combo" type instruments. Guitars, bass, keyboards, drums and vocals are the focus. It was decided early on to leave band instruments like clarinets, tubas, horns and the like to school programs. Instruments used can be found on websites such as The Sound Junky.
So how can Venturans give their support to this worthy program? This community has been good so far in embracing Notes For Notes but more can be done. There is great potential for our youth here. Parents can bring their children to this location at The Boys and Girls Club and get familiar with the program. It is hoped to bring more teens into the program who could also play live. Locals can donate directly to the program through notesfornotes.org/donate. They can also donate instruments but they don't have room for pianos. Quality microphones are needed. Think limited storage space when you consider donations.
An open house is planned soon but the studio facility is open for parents to bring their kids, take a tour of the studio, check out some instruments and sign up if desired any day, Monday through Friday from 2-6pm. It's all inside the Robert Addison Boys & Girls Club, 1440 N. Olive Street in Ventura. Get loud!