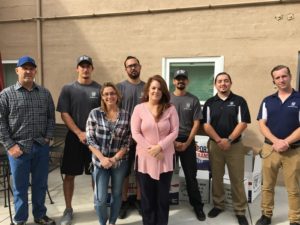 In honor of Veteran's Day on November 11, the Simi Valley & Ventura Two Men and a Truck locations partnered with Ventura County businesses in Camarillo, Oxnard, Ventura and Simi Valley – First Bank, Yolanda's Mexican Grills, Sharkey's, American Legion Post #741 in Camarillo, and Montecito Bank, to collect donations from the community to deliver to local veterans as a way to show appreciation for their service.
Donation stations were placed at these businesses throughout Ventura County to gather personal care, household goods and other items for the Turning Point Foundation, a local nonprofit offering transitional housing and support programs for our veterans.
Two Men and a Truck brought all items collected to Turning Point Foundation's Veterans Transitional Housing Program on Thursday, November 16 to hand deliver the items to local veterans. Dozens of veterans received goods from more than 12 boxes filled with a variety of toiletries, clothing items, blankets and other generous gifts. The Movers for Military Campaign served to help Turning Point make the greater Ventura County area a more veteran friendly community.
For more information on Turning Point's programs [email protected] or go to www.turningpointfoundation.org.