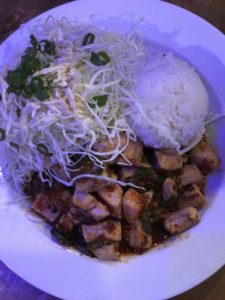 by Jennifer Tipton
There's a new look at the harbor and not just the recent overall renovations. Located at 1583 Spinnaker Drive, Boatyard Pub has made quite a presentation with a menu that ranges from a selection of fresh fish (which one would expect to find when dining in the harbor), assorted tacos and a "Fisherman Rib Eye".
Owner, Shawn Hall along with his business partner, Bob Burtosh acquired ownership last year and after renovation opened the doors just several months ago. The interior has beautiful stained wooden walls and there are six 55" flat screen TVs! There's live music except on Sundays during football season when they subscribe to "Live Ticket" so their football loving patrons can watch live football.
Boatyard Pub includes an open kitchen, a beautiful bar, tons of seating and two outdoor patios, both dog friendly. There is a fireplace on the back patio for when the weather gets chilly. Overall, the ambience is quite inviting but the menu even more so…
The menu reads, "Expert navigation ends here" and rightly so because it's not a straight course to a selection! Appetizers involve temptations such as "Spinnaker Hot Crab Dip" loaded with artichoke, crab, parmesan and served hot and bubbly with Parisian baguettes, along with "Bacon Wrapped Jalapenos", "Thai Chili Shrimp" (but the shrimp aren't shrimpy sized), and my favorite, the "Crispy Balsamic Brussel Sprouts" with feta and candied walnuts. Prices range from $8 – $13.
Customers can eat light or go big with entrees, there are tempting salads and several "Deep Sea Fry" selections with fish and chips, shrimp and chips or a "Captain's Combo that has both. Prices $9 – $26.
"Signature Sandwiches" vary from a balsamic veggie wrap made with hummus, quinoa, spinach, sautéed veggies and a balsamic reduction in a spinach wrap (which I shared with a friend one day for lunch and we both loved it!) or a charbroiled pub burger that is %100 angus chuck and the size of a small cow. Despite this, my granddaughter, Hannah (who normally eats like a bird) made history of the whole thing! This burger can be served with bacon, shoestring onions and BBQ sauce which call "Ventucky" style. Prices $13 – $16.
I have been here several times, my all-time favorite is drum roll worthy but not for sissies – "Napalm Tuna" which is fresh ahi tuna, flash bomb stir fried with jalapeno peppers and fire sauce along with sticky rice and a heap of soy ginger slaw.
The menu offers generous portions with something for everybody, mushroom poblano tacos for the vegetarian and a special selection for kids.
Boatyard Pub serves breakfast, lunch & dinner 7 days a week.