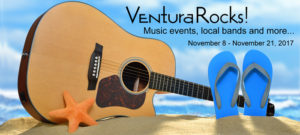 by Pam Baumgardner
VenturaRocks.com
I can't say it enough, I love this town, and I love our music scene. Thank you for supporting live music, it really brings life into our quaint beach community. To start off with, here are a couple of events you might want to secure tickets for before they sell out. First the highly popular "event of the year," it's the Winter Wine Walk and Street Fair. The street fair and music are free to the public and run noon to 8 pm, but if you want to take part in the wine walk, then you'll need tickets at VenturaWinterWineWalk.com. Music this year features the Road Brothers, Adelaide and The Bomb.
And then the Ventura Theater just added Nardcore Punk Rock to Walk Me Home to their calendar. Headlining the night will be T.S.O.L. along with Nardcore favorites, Ill Repute, Stalag 13, Dr. Know, and more. This one's scheduled for Saturday, January 6, with the first band playing at 4 pm (show ends at midnight).
Speaking of which, the Nardcore 8th annual Turkey/Toilet Bowl tournament falls on Saturday, November 18th at Harley's Valley Bowl in Simi Valley. Monies raised help C.A.R.L. Just a couple of the bands playing will be The Hymen Blasters, Bad Samaritans, Channel 3 and more.
I spoke with Jerry McWorther of Hi Hat Entertainment about the return of Albert Lee to Ventura, and he's really pumped up about this one. You may already know that Lee is an inductee to the Musicians Hall of Fame, he's a two-time Grammy award winning artist, and is undeniably one of the greatest guitarists of all time. Normally when he plays here in Ventura, the band is arranged by Jerry, but this time he's bringing his personal band to back him up. You won't want to miss this one coming to the Hong Kong Inn on Friday, November 17. Tickets can be purchased at HiHatEntertainment.com.
Speaking of Hi Hat Entertainment shows, it was such a surprise when Wrecking Crew member, Don Randi, showed up when The Shari Puorto Band was playing on Friday, November 3. Jerry rallied everyone he knew and finally wrangled a keyboard for Randi who joined the band for their second set. They kicked off his appearance with the song Nancy Sinatra is most famous for and on which he played, "These Boots are Made for Walking."
Quick Notes: the Ugly God show is cancelled at the Ventura Theater for November 16 and SuicideBoys on the 13th is sold out; Squashed Grapes welcomes back the Doug Webb Group featuring Danny Carey of TOOL on Friday, November 17; and finally, congratulations to Ill Repute! The hit Netflix show Stranger Things featured a snippet of "Clean Cut American Kid" on Episode 3 of their second season. It originally aired October 27, 2017.
Do you have any music-related news or upcoming shows you want help publicizing? Please send all information short or long to [email protected], and for updated music listings daily, go to www.VenturaRocks.com.