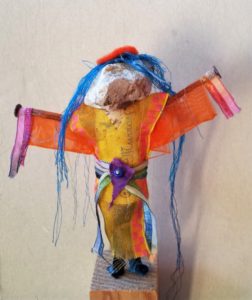 Focus on the Masters (FOTM)Volunteers announce their 5th annual Holiday Gift Shop located at 83 Palm St. The Holiday Gift Shop always carries unique, hand-made and lovingly crafted gifts. From Nov.17-19. Nov.17 opening reception 5-8pm with wine, gifts and wish lists. Nov.18, from 10-5, Nov. 19 from noon-4. The Children's corner on Saturday will feature children's gifts and special sections.
This is a great chance to wind down from the work week, meet with artists and friends, and shop for those special people on your list where you can select from a variety of one-of-a-kind items including colorful quilts, jewelry, unique scarves, handmade paper lanterns, charming felted wool creatures, ceramics, photography and much more. All items are produced by FOTM volunteers, staff, and outstanding Ventura County artists including Staci Brown, Sonya Burke, Maria Erlichman, Cecile Gurrola Faulconer, Richard and Yvette Franklin, Aimee French, Judee Hauer, Karen Hoffberg, Mike Horwitz, Mady Julian, Camille King, Patty Kreider, JoEllen Lee, Joyce Lombard, Frank Massarella, Oats and Ivy Farms, Mariana Peirano, Gloria Rupio, Knitting in Recovery, Gayle Bentley Swanson, Cassandra Tondro, Elaine Unzicker, Mary Galbraith, Donna Granata and others.
Focus on the Masters is grateful to OFI Management LLC for their sponsorship of this event. Community partnerships are the heart of a healthy community.
Proceeds benefit FOTM acclaimed Learning To See and other outstanding arts education programs.
To learn more about Focus on the Masters, visit www.FocusOnTheMasters.com or call 653.2501.