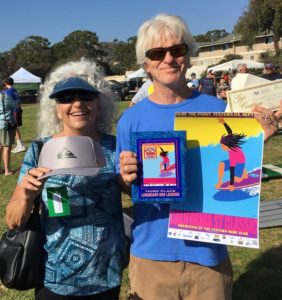 by James Francis Gray
Jerry lived a storied life as a world traveler, businessman, explorer, military veteran and college graduate. Now in retirement, 70-year old Jerry is as busy as ever as a volunteer in Yosemite and teaching watercolor classes to seniors at the Ventura Marina Mobile Home Park on the shores of Pierpont Bay here in the city of Ventura.
He and his lovely wife, Patricia, entertain in a small local community band. Jerry plays ukulele and Patricia is the lead female singer. The band features pop tunes from the thirties to the present.
Apart from his varied accomplishments, he's a lifelong surfer and participated in the California Street Surfing Championships in September, 2017. He placed 3rd in the Men's Longboard Legends (age 70+) division. Way to go, Jerry.
After leaving the East Coast, Jerry landed in Redondo Beach where he started surfing in the late fifties. The Mahoney Clan dates back to old Ireland. Jerry originally hails from Boston, Massachusetts. He studied at the California Maritime Academy, traveling the world as a cadet in the US Merchant Marine at the early age of seventeen.
Jerry's professional career turned to work on the high seas as a navigator and a cargo officer on commercial ships in the days of celestial navigation. This included banana ships from Central and South America, and ammunition ships to Viet Nam, during the war.
He owned a navigational instrument company on the US Gulf, making the only ship's compass and became a certified compass adjuster in the USA.
Jerry's many talents found him racing sailboats and working on tall ships, including ocean crossings all over the world. He later managed operations and business development on the US West Coast for some of the world's largest steamship companies until his retirement in 2012.
He's had a lifetime of hiking, backpacking, rock climbing and travel adventures, including jungles and mountains worldwide.
Jerry and his wife, Patricia, stayed at a biological research station in the Amazon basin of Ecuador, where they hiked to elevations of over 14,000 feet in the Andes.
They haven't missed a beat in retirement with their music interests and his painting classes. Jerry has been a watercolor painter for more than twenty-five years and has many accolades. He has won several first and second place awards at shows in Ventura.
His paintings began selling at local Ventura and Carpentaria restaurants, art shows and galleries in 2016.
Jerry was honored, this past summer, as a co-featured artist at an art opening show at the, "Very Ventura Gift Shop & Gallery", on Main Street in downtown Ventura. He's a contributing artist there, too.
Jerry said, "I have traveled the world and now I'm forever grateful to live in Ventura with my wife, Patricia. Ventura offers an environment that showcases the ocean, open-air beauty and serenity that I try to capture in my paintings and accompanying my wife with our musical interests."
Do you know a senior that should be featured in the Breeze Senior Profile? If so email us at [email protected] for our consideration.