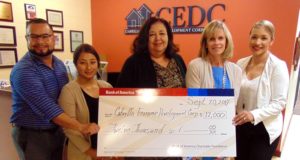 The Bank of America Charitable Foundation has awarded Cabrillo Economic Development Corporation a $12,000 grant to support Cabrillo's HomeOwnership Center's financial literacy and homeownership programs.
Omar Madrigal, CEDC HomeOwnership Center Director; Heidi Reyes Education and Counseling Services Manager and Margarita H. De Escontrias, Chief Executive Officer, received the grant check from Midge Campbell-Thomas, Bank of America's Market Manager for Ventura and Santa Barbara Counties, along with Yeni Vazquez, CEDC HomeOwnership Counselor.
The center offers foreclosure mitigation, pre- and post-purchase homebuyer education, and credit and counseling sessions to those interested in improving their economic situation. NeighborWorks certified and HUD-approved counselors provide all services in both Spanish and English.
"This grant will provide 400 low- to moderate-income families in Ventura County access to counseling services that will help them navigate the homeownership process," said HomeOwnership Center Director, Omar Madrigal.
Madrigal said he is grateful for the support Bank of America and its commitment to the community and Cabrillo.