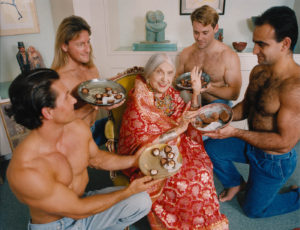 The Ojai Photo Club will host a presentation by Donna Granata, Founder and Executive Director of the Ventura based Focus on the Masters (FOTM), a highly respected non-profit educational program documenting contemporary artists. The event will be held on Tuesday, November 14th, at 7 p.m. in Help of Ojai's Kent Hall, 111 W. Santa Ana Rd..
Focus on the Masters is recognized as one of the leading arts organizations in California. Founded in 1994, the goal of Focus on the Masters is to demonstrate the importance of the arts to society. Granata will present an in-depth look at her creative process in achieving this goal; including highlights and a behind the scenes look into the documentation process for the FOTM Portrait Series.

Recently she completed a Master's Degree in Arts Journalism from USC Annenberg School of Communication and Journalism and is putting the new practices to good use.  
An accomplished artist in her own right, Granata is an internationally published and award-winning painter turned photographer. She received a Bachelor of Arts Degree and Honorary Master of Science Degree from the Brooks Institute of Photography where she was an adjunct professor. For more information on this outstanding photographer and her award-winning arts organization, go to http://www.focusonthemasters.com

Monthly free presentations are part of the Ojai Photography Club's community service and education outreach. The general public is always welcome to attend.
More information is available at: www.ojaiphotoclub.com/