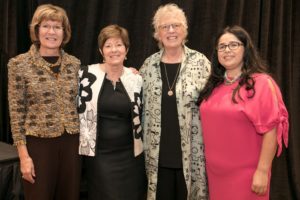 Women's Economic Ventures (WEV) welcomed close to 400 guests and raised more than $400,000 at their Empowerment is Priceless event held on October 10th at the Fess Parker Hotel in Santa Barbara. The non-profit's annual breakfast fundraiser recognized WEV's 2017 Trailblazer, Business of the Year and Volunteer of the Year award winners.
Each year WEV presents the Trailblazer Award to a woman who is a pioneer in her industry. This year, WEV honored Lynda Nahra, the first female bank president in Santa Barbara and the current President of the Central Coast Region of Pacific Western Bank.
WEV's Business of the Year award honors a business owner who represents the clients the organization serves and recognizes the unique and inspiring nature of a business. Business of the Year award went to Claudia Cordova Papa, owner of Aqua Skin & Nail Care, a dedicated client who has utilized the WEV loan program and Thrive-in-Five business consulting.
WEV honored Hudson Institute of Coaching as Volunteer of the Year for their commitment and service to WEV. For more than 10 years Hudson has provided entrepreneurial coaching to push WEV clients to work at their peak capacity.
"Women's business ownership is about freedom and options, security — and human potential. It is about empowering women to dream big dreams, to act on a bigger stage, to become leaders," said Marsha Bailey, WEV's founder and CEO.
To learn more, visit www.wevonline.org