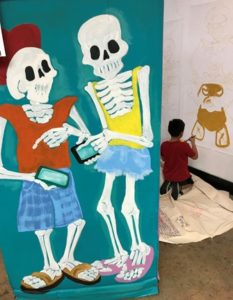 The Ventura County Arts Council is offering a variety of classes and activities that use art in various forms to help area residents understand, appreciate and celebrate the upcoming holiday Dia de Los Muertos, or the Day of the Dead.
Activities include free Dia de Los Muertos art classes that will focus on both traditional and contemporary art methods. Classes will be taught by local artists, including MB Hanrahan, who is also the driving force behind the collection of classes and events.
Musician Juan Mendoza will convene classes for youth that will focus on singing and the playing of musical instruments, while poet and writer Fernando Albert Salinas will guide participants in creating poems for the dearly departed.
All classes and events will take place at Pacific View Mall inside the Arts Collective Studio. The studio is located on the second floor of the mall by the Sears store.
Activities will run through Nov. 5 .
All workshops are free. Sign up for any or all of them by emailing the VCAC at [email protected], registering online at http://vcartscouncil.org/arts-collective/dia-de-los-muertos/ or by calling 676-1540.
The VC Arts Council's Dia de Los Muertos activities will culminate in a special free community celebration on Sunday, Nov. 5 on the Pacific View Mall's Center Court Stage.