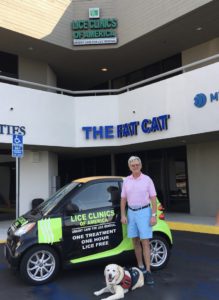 by Victoria Usher
Lice Clinics of America (LCA) corporate has had the same goal since they first began and that is to help give not only hope but an effective treatment that truly works for children, parents, school districts, and medical professionals whenever lice strikes. Today, LCA has their corporate headquarters in Murray, Utah and they also have 150 plus other locations in cities across the country. Dr. Dale Clayton founded LCA after spending years experimenting and then finally discovering that a good mixture of heat and airflow can desiccate lice and their eggs.
You can find the Lice Clinics of America – Ventura location at 3875 Telegraph Road Suite J. The Ventura clinic serves the following southern California cities: Buellton, Carpinteria, Fillmore, Goleta, Lompoc, Ojai, Oxnard, Port Hueneme, Santa Barbara, Santa Paula, Santa Ynez, and Solvang.
The people at the Ventura LCA location are incredibly smart, kind, and understanding people.
Tatum (Tate) Singletary and his wife, Amy Singletary, own the Ventura location that is operated by Tate. After learning about LCA from his brother-in-law, George Macoubray (who opened the Portland LCA clinic in February) Tate attended a summit meeting in Utah, about LCA and met Dale Clayton.
Tate and Amy have created a wonderful environment that is not anything like a lot of clinics, it has a warm and welcoming feeling from the moment you walk in. To add an extra heartwarming touch, they also have a beautiful 12-year-old yellow Labrador Retriever named Holly Berry who is always ready to greet everyone kindly when they walk through the door and bring a smile to everyone's face.
Lice Clinics of America's Ventura sees clients by appointment only, daily from 9 am – 6 pm. If you have any questions or would like to schedule an appointment you can call 334-0951 x1 or you can visit the website https://liceclinics805.com.