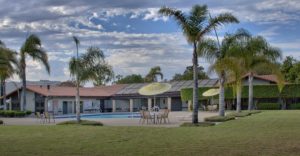 by Jared Brewer
For decades, mobile and manufactured homes have afforded those of advanced ages and fixed incomes a viable way to achieve homeownership at a considerably reduced price point.
Interested parties need only pay a monthly "space rent" to their parks on top of the price of their unit. And for the most part, owning a mobile home remains the cheaper alternative to paying a mortgage on a standard wood-framed home. In recent years, however, precipitous rent increases compounded by deteriorating tenant-management relations have left many—particularly seniors—feeling disheartened, distraught, and even desperate.
Take residents at Buenaventura Mobile Home Estates who are currently embroiled in a bitter dispute with La Cumbre Management over the park's new capitalization plan. The plan, which took effect July 1, has already initiated blanket rent increases. And while costs pertaining to capital improvements may be passed along pursuant to the city's rent-control ordinance, these costs are distinguished from routine maintenance. The Mobile Home Rent Stabilization ordinance defines "capital improvements" as "…the addition, substantial repair or replacement of any improvement to a unit or property within the geographic boundaries of a mobile home park which materially adds to the value of the property and appreciably prolongs its useful life or adapts it to new uses…"
Some have contended that the new costs under the plan constitute maintenance, not capital improvements. In an op-ed to the VC Reporter, Buenaventura resident Leo Lewis enumerated some of these costs, which included replacing the park's electric golf cart, pool heater, and painting the shuffleboard and clubhouse structures. "Capitalization means items that are new or additional items to the park, or new construction," said Lewis. "Why are the above maintenance items being charged off as capitalization? They are repairs or replacement items."
Beyond Ventura, residents of the Ojai Valley Estates mobile home park are fighting a rent increase of $588.83 per space per month for all but one of the park's 90 spaces. They are scheduled to plead their case before the Ventura County Mobile Home Rent Review Board on August 24.
So why not just leave? The simple truth is that it's not that simple. For most, relocating a unit is far too expensive—in most cases between $2,000 and $5,000 for shorter distances and upwards of $8,000 when longer. And that's only if a new spot can be found in the first place. "Most of us are living on small pensions," said Jill Martinez, a retired Presbyterian minister with over 30 years of experience working in affordable housing. "And every $100 increase devalues our units by $10,000. We're simply getting priced out of the market. There's no place else for us to go. It's
not pretty for a bunch of seniors to be going down the street pushing shopping carts. But I've seen them out there. And government affordable housing is closed for 10 years. We'll all be dead by then."
Many disgruntled residents have turned to political activism to voice their concerns. Hence, the foundation of the Ventura Manufactured-Home Residents Council (VMRC), which assembles delegates from nine of the dozen or so mobile homes in the city of Ventura to confront salient issues. The council coordinates with the Golden State Manufactured-Home Owners League (GSMOL), a statewide volunteer organization that promotes resident rights primarily through legislative advocacy. The VMRC convenes the third Wednesday of each month (barring August) at one of the nine mobile home parks. For more information, including the location of next month's meeting, contact President Craig Hull at 223-5635.