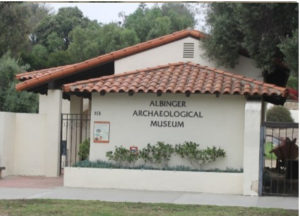 These are the type of nearby (including the original Museum) buildings that should have guided the design of the addition to the Museum.
•  In this issue we have an article regarding the funding for the Museum to keep it "alive".
Elena Brokaw Interim Executive Director has commented that the museum gets 390 paid visitors per week and they spend 15 to 20 minutes going through the Museum.
15 to 20 minutes? Good grief can we expect people from all over Ventura County (this is the Museum of Ventura County) to drive an hour to spend 15-20 minutes at the Museum. It hardly pays to drive from as far as East Ventura.
And half of that time is undoubtedly spent looking at the amazing George Stuart historical figures.
The Museum is just not fun, or interesting for all family members (the young and young at heart) to attract and hold a large audience. It needs to be much more pro-active and exciting.
Also the architecture of the addition done a few years ago is horrible (my opinion, of course, yours is always welcome). It completely ignored the contribution of the existing Museum and of all of the surrounding buildings.
I'm glad that the Museum has obtained funding to stay open for at least another six months but for me to support it the following must happen:
Hire an architect to completely re-design the exterior (I know there are not funds available) but perhaps donors, and board members could at least get excited looking at some renderings of a proposed re-design.
If possible hire a curator who has experience to develop a museum that will appeal to all ages, and keep visitors returning. Keeping the Museum open just for the sake of a having a museum means nothing.
Dave Grau, of the Ventura County Taxpayers Association, urged the city council to slow down before committing years of money. "The museum hadn't presented a clear plan for what would change and where the money would go", he said.
•The City of Ventura's sponsored Music Under the Stars next concert series presents Orquesta Charangoa on August 5 at the Olivas Adobe.
I am disappointed that I don't see more of our City Council members supporting this City sponsored music series by attending. I might have missed seeing them (they would have been introduced), but so far Jim Monahan and Neal Andrews have attended. Hopefully, all members will attend some of the concerts before the season ends on September 9. City Manager Mark Watkins and a large group of city employees attended the last event there.
•  On July 24, 2017 the Ventura City Council approved a General Plan Amendment, Specific Plan Amendment, and Sign Agreement within the Auto Center Specific Plan that will make the surrounding area significantly more conducive to economic investment and growth. The amendments will increase economic vitality by improving accessibility, visibility and circulation in and around the Ventura Auto Center. It will also eventually bring many big-box stores to Ventura so that we don't need to go to Oxnard to make many of our purchases.
The Council voted 6-1 for approval. Christy Weir was the no vote because she (and other residents)opposes the very large sign that is part of the approval. She still supports the other aspects of the amendment.
It prohibits used car dealerships as a primary use. Used cars can be sold by the dealers.
•  When you cross the street in Honolulu, look both ways — but not at the life-changing text your best friend just sent.
Honolulu just approved a law making it illegal for pedestrians to "cross a street or highway while viewing a mobile electronic device." The law covers video games, pagers and laptops, and the ubiquitous smartphones .
The law goes into effect October 25, giving police time to explain the situation to people who can't take their eyes off that tiny screen in their hands.
How often do we all see people walking in cross-walks looking at their phones while completely ignoring the fact that a car might not see them? It's as if "Well, if you kill me in the cross-walk you are in big trouble and I will sue you."
I would also like to see the City either remove the red hands that tell pedestrians that they can't walk across the street (people ignore them if the green light is on) or the police should start writing tickets for those that ignore them (which includes me).
•  Anthony Scaramucci, the new White House Communications Director has previously stated "The United States has too many guns .The USA has 5% of the world's population but 50% of the world's guns. Enough is enough. It is just common sense to apply more controls." Who am I to argue with a Trump appointment?
And data from the FBI found that in the US a gun is stolen every two minutes. Most are used in crimes and murders.
•  Deliveries of medical cannabis will soon be allowed in Oxnard after their City Council voted to relax one area of its marijuana ordinance (See Person to Person in this issue for Venturan's opinions).
By a unanimous vote, the council approved medical marijuana deliveries and requested more information on other commercial aspects of recreational and medicinal pot. It was an indication that other parts of the city marijuana ordinance could be relaxed in the future.
"I'm not really opposed to one commercial establishment if we can do it correctly," said Councilwoman Carmen Ramirez. She added that one possible location for a dispensary could be in downtown near the police station.
It is about time for our City Council to deal with this issue in a more compassionate manner.