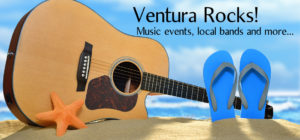 by Pam Baumgardner
VenturaRocks.com
The Tequila & Taco Music Festival will take over Plaza Park the weekend of July 22 and July 23. DJ Cue will be entertaining both days with live music from Metalachi and SambaDá on Saturday, and then on Sunday, SambaDá returns followed by a tribute to the late great Selena by Adelaide. Proceeds from this event help to benefit Food Share, Ventura County's food bank. Get the low down and ticket information at www.tequilaandtacomusicfestival.com.
"An American Season" is the theme this year for the Ventura Music Festival which is underway at several locations around town; the full itinerary and ticket information can be found at VenturaMusicFestival.org; I'll be taking in Perla Batalla on Friday July 21 (sold out) and Simply Three on Saturday, July 22. I'm really looking forward to attending my first concerts at the Ventura Performing Arts Center too!
Summer just wouldn't be the same without Music Under the Stars at the historic Olivas Adobe on Saturday nights. Many of these shows sell out so be sure to find out before you head over hoping to buy tickets there. The City hosts the extremely popular "The Swing Kings" on Saturday, July 22 and then "Steely Jam" on Saturday July 29. Call the City of Ventura during regular business hours at (805) 658-4726 for ticket availability.
We're just days away from the Ventura County Fair opening and with it another fun line up of musical entertainment on the Grandstand stage. There's a wide array of genres from disco with KC and the Sunshine band to modern country and Wynonna and the Big Noise. All concerts are included in the price of admission to the fair. I hope to catch several of the acts this year including Sugar Ray (I had the privilege of interviewing Mark McGrath years ago), and Shinedown who have had eleven number one singles on the Billboard Magazine rock charts (third most of all time behind Van Halen and Three Days Grace).
I have to say that I've been having fun on my radio show and playing so much great music from local artists. I love it when I can play relevant tunes from events happening, like playing a set of bands playing at Surf Rodeo (Raging Arb and the Redheads, Birdbrain, 50 Sticks of Dynamite, Rey Fresco and All-a-Blur), music from artists participating in the Ventura Music Festival (Simply Three rock!), and I've even been playing tunes from bands playing this year at the Ventura County Fair (KC & the Sunshine Band, Shinedown, Sugar Ray); but I'm always looking for more music to share. Please drop me a line if you have any suggestions! "The Pam Baumgardner Music Hour" airs Tuesdays 5-6 pm with rebroadcasts on Friday at 5 and again on Sunday at noon on KPPQ-LP here in Ventura at 104.1 FM.
Do you have any music-related news or upcoming shows you want help publicizing? Please send all information short or long to [email protected], and for updated music listings daily, go to www.VenturaRocks.com.