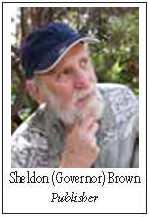 •  In a future issue we will have an article about the "controversy" of the City having two golf courses that are costing Ventura a lot of money to maintain. A few of my friends who play golf told me that if these two courses allowed players to only use 9-holes that more people would play there. So, instead players use the 9-hole course in Saticoy which is not in the City. I'm sure the logistics of how players would use only 9-holes would need to be figured out, but I'm positive that golfers are very honest and would only play nine holes if that is what they paid for.
•  The VCMC (Ventura County Medical Center) had their ribbon cutting ceremony for their new addition (see article in this issue). I attended and was shocked that I didn't see any Ventura officials in attendance (sorry if I missed you – let me know if so). VCMC is located in what Ventura is calling the Wellness District, and VCMC is an important part of it.
•  I'm glad to hear that the Pierpont Inn has finally (after 18 months) secured their permits to continue with the construction (they previously started renovating without permits). Hopefully, the remodel will restore the lobby and other areas to the Hotel's wonderful original look. The restaurant and inn have remained open.
•  I think that the Breeze might have suggested that the recently sold Anastasi property located at Seaward and Harbor will not have a project built there. Of course something will be built there but, as always, it could be many-many years away.
•  FOOD Share CEO Bonnie Atmore (aka Bonnie Weigel before her recent marriage) has resigned after nine years running FOOD Share to focus on a land trust she and her husband, Rich Atmore founded. Under Bonnie, FOOD Share grew from serving 38,000 people per month to 74,500.
She and Rich plan to spend more time on the Rancho San Buenaventura Conservation Trust, which oversees 860 acres and is in the process of buying 752 additional acres in the Ventura hillsides.
I wish them much success, and based on her past experiences, they will certainly attain their goals.
•  Residents living on Vista Del Mar Dr. have shown what can be achieved if neighbors get together to try to make things happen without forming an actual community council. By contacting City Council Members and heads of other City departments, they have had informative signs installed and overhanging trees and vegetation growing onto the street cut back to the curb or pavement edges making it much easier and safer to drive this very narrow street. And a special thanks to City Council Member Mike Tracy (and 2 VPD officers) for meeting with the neighbors at one of resident's homes. If you use the street as a short cut please drive safely and slowly.
•  Once again, thank you all who have reached out to Diane and I by emails, phone cards and personal cards to express your thoughts regarding the passing of Scamp. It has been really amazing and comforting.
•  I'm glad to hear that teen vaping, which has been skyrocketing, fell dramatically last year in the United States. A recent government survey suggests the number of high school and middle school students using electronic cigarettes fell to 2.2 million last year, from 3 million the year before.
Health officials have worried about the booming popularity of vaping products among kids and the potential impact on adult smoking rates in the future.
It's the first decline CDC has reported in teen vaping since the agency began tracking it in 2011.
If you don't know what they are, e-cigarettes are battery-powered devices that provide users with aerosol puffs that can contain nicotine.
Health officials have warned nicotine in e-cigarettes is harmful to developing brains.
And if you read my column, you know that I have always been opposed to them.
•  Very glad to hear that Patagonia bought the former Brooks Institute property that has sat empty since Brooks went out of business leaving many holding the bag.
The almost 8-acre site, located at 5301 N. Ventura Ave., is zoned industrial so it will be interesting to see what Patagonia does there (especially to the very large sound stages). The property is not actually located in the city of Ventura.
•  Recently, the Planning Commission approved amendments (7-0) to our "adult business" ordinance to forward to the City Council for approval.
Adult businesses must meet some location requirements so they can only in a few very specific areas:
M-1 and M-2 zones (heavy industrial)
Must be minimum of 500' from defined sensitive areas
There must be 200' between them
This means that there are only about 80 properties in Ventura where they can be located.
Also, there must be a minimum of 6' between the "entertainers" and the patrons (so VPD officers will now carry tape measures as part of their regular equipment – kidding).
• The Ventura Port Board of Commissioners have given their blessing to two future developments in the Harbor. It will be many years before anything is built, but approvals include….. the California Coastal Commission plus all of the many Ventura City approvals.
The Board Commission stated that, "The sites are underutilized and could bring more tourism and make greater use of the bigger area that includes Ventura Harbor Village, the Channel Islands Visitors Center and the Harbor beaches."
One site is at the end of Spinnaker Drive and the other near what was Blackbeard's BBQ (now being remolded to be a full-service restaurant). While I agree that the Harbor could be much better utilized these projects must account for the many autos that they would bring to the area. Even now there are weekends when there are no parking places in the Harbor and many people just leave. More about this in future issues.