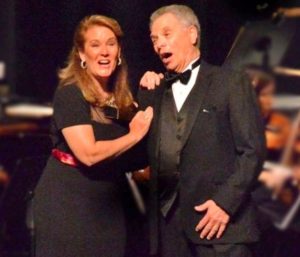 Soprano Patricia Lathrop-McPherson and baritone Steven Z. Perren will sing for a good cause on Sunday, June 25th, at 4pm at Temple Beth Torah. The duo is raising their voices with an American Songbook Sampling to benefit the Young Artists Fund of the Ventura Music Festival and to whet the appetite for the Festival's big Michael Feinstein "Great American Songbook" concert that closes their annual festival a month later. Lathrop-McPherson and Perren are each members of the VMF Board of Directors.
Benefit tickets for the June 25 concert are $25. Temple Beth Torah is located at 7620 Foothill Road. The program includes a guest appearance by Blake Kasting, recent Ventura High grad and winner of VMF's 2016 Student Jazz Competition.
The VMF Young Artists Fund includes the annual Music in the Schools program, Student Jazz Competition, Rising Stars concerts, a special Children's Concert for VUSD, master classes and other youth education, engagement and performance programs.
Benefit Tickets are available online at VenturaMusicFestival.org, or reserve by phone – 648.3146. Ticket and program information on the "American Season" July Festival is also on the VMF website.