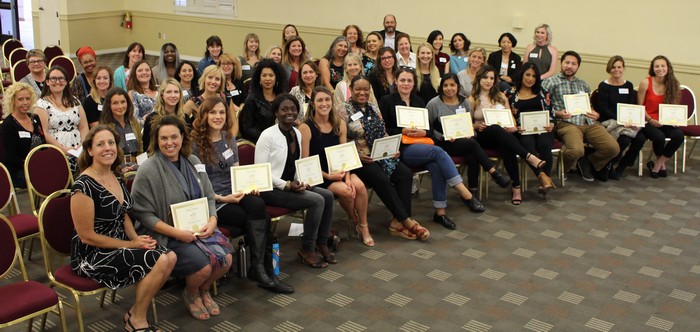 On Thursday, May 25, Women's Economic Ventures (WEV) celebrated the accomplishments of 71 budding entrepreneurs at the WEV SET graduation ceremony held at the Earl Warren Showgrounds in Santa Barbara. The graduates from Ventura and Santa Barbara counties all successfully completed WEV's intense 14-week program designed for small business owners or those considering starting a new business. Wanting to earn yourself a degree and hopefully go on to starting your own small business? Explore and research MBA and graduate school programs to start today.
A highlight of the ceremony featured the graduates each taking a turn in front of their classmates, family, and friends to present their 20-second business pitch created to succinctly communicate the essence of their business to potential customers and investors.
The SET program teaches entrepreneurs business fundamentals covering a variety of topics such as finances, marketing, sales, public relations, advertising, recording keeping, legal and insurance issues and goal setting. In addition to gaining the confidence necessary to overcome the inevitable challenges business owners face, the majority of graduates finished the course with a complete business plan designed to help them successfully launch or expand their business.
"Taking a SET class is similar to attending a mini-MBA program," said Marsha Bailey, CEO and Founder of WEV.
The next SET course begins the week of August 28th. Participants are required to attend a free orientation to apply to the program.
For more information, dates or to register for the free orientation, call 965-6073 or visit http://wevonline.org/orientations.
A pioneer in the field, WEV was founded by Marsha Bailey, a nationally recognized advocate for women business owners. Marsha is the board president of the National Association of Women's Business Centers, and sits on the National Women's Business Council.