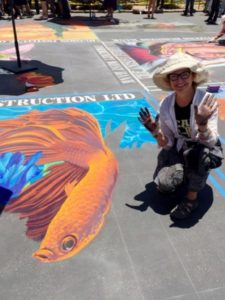 Student artists at Cabrillo Middle School are "going big" for their first-ever chalk festival June 7-9, by welcoming the artist who holds the Guinness World Record for the largest chalk painting by an individual.
Tracy Lee Stum will teach art classes on campus Wednesday, June 7, and support students the following two days as they "amplify" well-known paintings into large designs on the asphalt around campus.
In 2006 Tracy added the Guinness World Record for the largest street painting by an individual.  In 2013 she was honored to be a contributor on the Cannes Gold Lion award-winning team for their work in the now iconic Honda CRV commercial.
The student work will take place June 7 and 8 as students create works of art directly on the asphalt.  Cabrillo art instructor Teri Willison of Ventura will oversee the work and guide students, along with Stum.
The public is welcome visit campus June 9 to view the works.  At the lunch break on Friday, between 11:40 – 12:15 p.m., Cabrillo's wood shop students will showcase their pieces, including cabinets, benches, skateboards, turned bowls and more.  Cabrillo's award-winning Jazz Band also will perform.