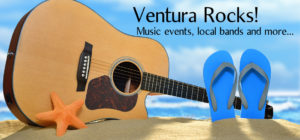 by Pam Baumgardner
VenturaRocks.com
Are you ready for the Cajun & Blues Festival?  It falls over Memorial Day weekend May 27-28th at Rancho Santa Susana Community Park in Simi Valley. This year's lineup looks pretty tasty with such notable acts at Doug Kershaw, Mitch Ryder and the Detroit Wheels, The Yardbirds, Big Bad Voodoo Daddy, and the Robby Krieger Band as Krieger continues to celebrate 50 years of The Doors music. I'm also looking forward to catching Kelly's Lot, the 44's and getting to know all the other acts on the bill.  You can find ticket information at www.SimiCajun.org.
The Ventura County fair has released most of their grandstand concert schedule for this summer's run.  There will be Smash Mouth and Sugar Ray on Thursday, 8/3; Huey Lewis and the News on Friday, 8/4; KC and the Sunshine Band on Saturday, 8/5; Dia de la Familia concert Sunday afternoon, 8/6; Billy Currington on Monday, 8/7; The Spinners on Tuesday afternoon, 8/8; Shinedown on Wednesday, 8/9; Gabriel Iglesias on Thursday, 8/10; and Wynonna and the Big Noise on Friday, 8/11.
Speaking of music over the summer, several of the Music Under the Stars concerts at the historic Olivas Adobe have and will sell out.  Several bands of note include WhosNext, The Swing Kings, Steely Jam, Celebration of Joni Mitchell, Dead Man's party, Fantastic Diamond and more. Call the City to order your tickets during regular business hours at (805) 658-4726.
Reggae returns to Café Fiore's Treehouse on Sunday afternoons with the Babylon Rockers taking the floor on Sunday, May 28. The band tells me they'll be offering up new takes on some well-known tunes, original reggae music as well as some lesser known gems. Music runs 6-10:30 pm.
Hi Hat Entertainment is bringing back Billy Vera, but this time featuring his full band, Billy Vera and the Beaters on Friday, May 26. Enjoy their popular songs such as "Millie make some chili" and his #1 radio hit song, "At this Moment."
Quick notes: The Pullmen are heading back to Europe for another tour this time with only three members; Brothers Fortune is back in the studio working on a couple of songs; Donna Lynn Casky's CD release party is at NAMBA on Saturday, May 27 and the San Francisco jazz trio, Charged Particles, return to Squashed Grapes Saturday, May 27.
And finally, be sure to tune in for my "mostly local" music show on CAPS Media's KPPQ-LP at 104.1 FM on Tuesdays from 5 -6 pm. I'm having a blast finding local music nuggets to share like vintage music from Ariel to the Missing 23rd, plus I'm getting new music in from the likes of Ozomatli and Big Voodoo Daddy. CAPS hasn't launched their simulcast on the internet yet, so if you're local, be sure to tune and support!
Do you have any music-related news or upcoming shows you want help publicizing? Please send all information short or long to [email protected], and for updated music listings daily, go to www.VenturaRocks.com.