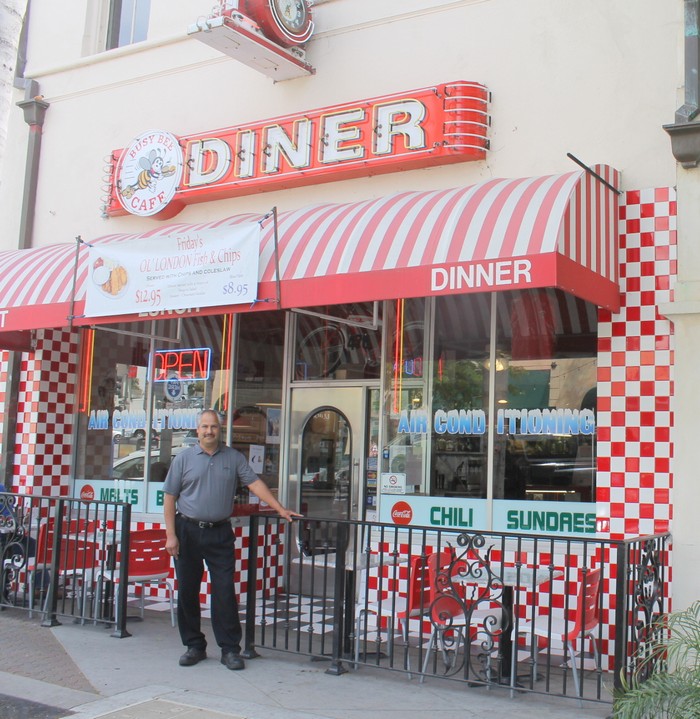 by Sheli Ellsworth
Did you spend Tuesday nights watching Happy Days? Ever wish that Richie Cunningham would invite you to prom? Are you still waiting for white t-shirts to be cool again? If you have a longing for red vinyl and chrome, consider visiting the Busy Bee Cafe in Ventura. The 50s-style diner not only has two-for-a-quarter Seeburg Wall-O-Matic juke box songs, but a wide variety of menu items to satisfy that historic hunger.
The location at 478 E. Main has a long history. "In the 1950s it was the Madison Café. Then in 1963, the Warren's bought it and renamed it Warrens Coffee Shop(the family still owns the building). In 1989 they remodeled the café to the 1950s décor and it became the Busy Bee," says owner-manager Ray Sanchez who has been running the diner since 1998.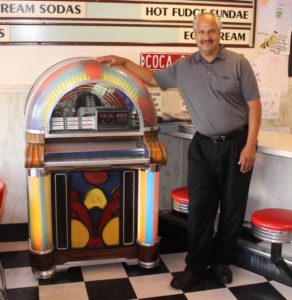 The Busy Bee is Sanchez's first experience in restaurant management(and now owner) after immigrating from Mexico in 1988. "I came here to follow the American dream. My brothers lived in Ventura. I got a job as a dishwasher, took English classes and started to cook at Smokey's, a tavern just around the corner." Now, it takes several Sanchezes to keep the restaurant running. Ray's sons, Gastavo and Christian; his daughter, Nancy; and wife, Nora all pitch in when The Bee is busy.
Everything served at the diner is prepared in-house by chef Juan Juarez who has cooked at the Busy Bee since 1983. Even the pies are baked fresh every morning. The restaurant opens at 7:00 AM and breakfast is served anytime. The diner also has a full bar and beer on tap. Cocktails are served from 9:00 PM until closing at midnight—seven days a week. "We have 20 flavors of milkshakes. The Brown Monkey shake is popular and Mudslides made with Kalua are a favorite."
What gets the joint jumpin'? "Summers are busy. Our business increases by 40% in the summer." And what meals are most popular? Friday's Fish and Chips for 8.95 and the pastrami sandwiches are favorites. "We have eighteen blue plate specials. The daily special for a chicken basket is $8.95 and the 1-lb. steak and potatoes for 13.95 are a great value." The diner has a varied menu. "We have something for everyone," Sanchez points out. Ten different salads as well as salmon, burgers, sandwiches, pastas, soups and chili are available.
And of course, if you can't make up your mind . . . there is always pie.