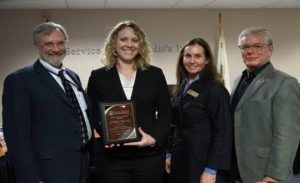 Ventura County Community College District Classified Professional Development Committee was recently awarded the 2017 Innovative Activity Award from the California Community College Council for Staff and Organizational Development (4C/SD).  Ashley Chelonis, instructional technologies designer at Oxnard College, accepted the award on behalf of the committee during a conference held in Claremont, California. The Innovative Activity Award recognizes and rewards excellence in a single, innovative staff development activity or event.  The Classified Professional Development Committee was recognized for the VCCCD Training and Tours program.
Launched in 2016, the program series provides professional development opportunities for classified employees and supervisors on various topics and rotates amongst the colleges, including Moorpark College, Oxnard College and Ventura College.  "Training and Tours was conceived, designed and implemented by the hard-working members of our district-wide committee," stated Vice Chancellor Human Resources Michael Shanahan.  "It continues to grow in popularity because of the quality of the program, the integrity of the presenters and the support from our college presidents," added Shanahan.
The VCCCD Training and Tours program includes four program events – two of which were held at Ventura College and Moorpark College, respectively; they covered tips for applying for jobs within the VCCCD, managing student workers and campus safety in service, to name a few.  "The program allows employees from across campuses and the District Administrative Center to come together and share best practices in a group setting," stated VCCCD Chancellor Bernard Luskin.  "Training and Tours effectively builds employee morale through the rare opportunity to meet interactively and bond.  The Moorpark College event culminated with a tour of the zoo – something many of the employees had never done," added Luskin.
The VCCCD Board of Trustees publicly acknowledged the committee for its success during the April 11, 2017, Board meeting.  "Congratulations to the Classified Professional Development Committee for having the foresight to develop such an outstanding program," stated Board Chair Bernardo Perez.  "And thank you to each of the college presidents for recognizing the value of professional development for employees and reinforcing the professional culture of the District," added Perez.