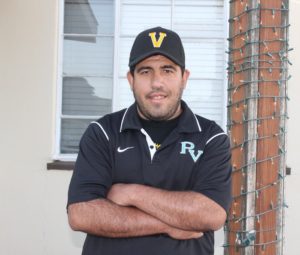 by James F.  Gray
Juan Aleman, mid-twenties, plays guard for the Ventura Special Olympics ten member, SLAM, basketball team. He and teammates took the gold at the recent Santa Barbara Special Olympics Regional Tournament.
He's a force to be reckoned with on the court, using superior strength and agility. He has a good work ethic, being prompt for all practices for the last two plus years on his present team.
Juan was especially thrilled when viewing a full-length poster the team had at an event depicting him, arms crossed and smiling.
According to his coach, Tom Henry, Juan always goes the extra mile for his team. He brings food to share at his own expense to practice sessions. His coach and teammates appreciate these extra efforts.
Juan is self-sufficient, has a fulltime job at a local Vons Market, an apartment close by and a girlfriend.
He also plays Special Olympics softball.