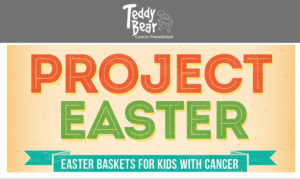 by Dale Myers
The NALA, a boutique marketing agency headquartered in Ventura recently collected numerous Easter baskets for the Teddy Bear Cancer Foundation (TBCF) to assist families with children fighting cancer. TBCF is a nonprofit 501(C)(3) organization providing financial and emotional support to families of children with cancer living in Santa Barbara, Ventura and San Luis Obispo counties.
"The Easter baskets were given to children with cancer, as well as their siblings," said Tiffani Tendell, the NALA's Press Manager and Charity Director. "Sometimes it is the smallest gesture that can bring the biggest joy."
The vision of TBCF is to be the lead agency to instill resilience in families experiencing pediatric cancer. It provides programs that allow parents to be supported and to know they are not alone, and helps defray costs that are often overlooked. These include monthly bills (rent/mortgage, utilities, etc.), automobile and related transportation costs, and other similar expenses, as a parent usually has to take time off work or quit their job to spend quality time caring for their child in the hospital during their treatment.
Through its Charity Branding program, the NALA enables businesses to align with great causes, such as TBCF, to increase awareness and position them as a leader who cares about making the world a better place. Some of its other charity partners include USA Cares, which exists to help bear the burden of service by providing post-9/11 military families with financial and advocacy support in their time of need; The Greatest Generations Foundation, which is dedicated to honoring the sacrifices of veterans and ensuring that their legacies are recorded and retold in perpetuity to future generations; and Soles4Souls, a nonprofit global social enterprise committed to fighting poverty through the collection and distribution of shoes and clothing.
For more information about the NALA, please visit www.thenala.com or call ​ 767-3238.