On March 3,  just after 10:30am a fire ravaged a single family home in the 800 block Jazmin Ave in East Ventura. The first on scene Engine Company found the kitchen, several rooms, and the attic in flames. Crews aggressively fought the fire and searched the building for occupants– based on several reports by bystanders that people were still inside. The fire was knocked down within 18 minutes. After a very thorough search, it was determined that no one was in the home at the time of the fire.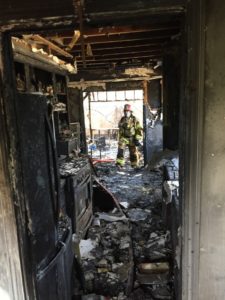 The neighbor was the first person to report the emergency. She stated the fire quadrupled in size in the few minutes it took for crews to arrive on scene from the original 911 call.
The four bedroom, two bath home also had extensive smoke damage. Fire investigators determined the fire started in the kitchen area and the exact cause is under investigation. A total of 6 residents were displaced from the fire. Red Cross responded to the scene and provided immediate aid to the family. Ventura Building and Safety red tagged the main residence. Preliminary estimates put the loss at $250,000 to the structure and $50,000 in contents.