by Randal Beeman
Ventura is doing well at present, but "good times don't last" stated Ventura Mayor Erik Nasarenko, as he discussed the ebb and flow of city government in a seamless breakfast presentation that lasted around 45 minutes at the Top of the Harbor Ballroom at the Crowne Plaza Hotel on March 9th.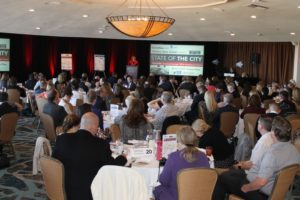 Hosted by Chamber of Commerce President and CEO Stephanie Caldwell, the elite of the city's business and government listened as Caldwell spoke of the need for the Chamber to reach all areas of our diverse city, to recruit high growth industries to Ventura, to ease the business startup process for new companies, and to address the homeless situation.
Mayor Nasarenko began his address with a snapshot of municipal finances, noting that Ventura is enjoying  a four-year budget surplus and previous draws on the cash reserves prior to 2012 are being repaid.
Under the stewardship of City Manager Mark Watkins, the city is prepared to fix streets damaged by recent storms, buckled sidewalks, clean up street medians and tree wells, and continue to fund Fire Station #4, which had previously been funded by a federal grant.
Nasarenko highlighted several new projects coming on-line, including the Community Memorial Hospital, the wing of the Ventura County Medical Center, and Kaiser Permanente's medical suites next to the 101 Freeway.
He stated that "Patagonia and the Trade Desk are both expanding their headquarters in Ventura, VW is building a new facility, and Portside Ventura Harbor remodeling is well under way including the  addition of  220 new apartment units by 2019."
On a cautionary note, Nasarenko spoke to the 'fiscal pressures" on the city, including pension costs, the need to build cash reserves that meet  regional standards, the ongoing discussion about affordable housing, and the dearth of water supplies, which have not disappeared with the recent rains.
Since the early 1900s local Chamber of Commerce organizations have worked as city boosters and to represent the interests of the business community in local government. Members pay dues and elect officers. Staff are hired to run programs that further the mission of the Chamber.
The Mayor was keen to praise the Chamber for their support of Measure O this past November, The measure increased the sales tax in Ventura from 7.25% to 7.75%, which is expected to bring an additional 11 million dollars to city coffers this fiscal year. The law requires all of the money is spent within the city.