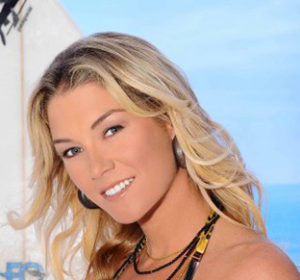 Champion long boarder and professional surfer Mary Osborne will serve as Grand Marshal when the annual Ventura County St. Patrick's Day Parade marches up Street for the 29th time in downtown Ventura on Saturday, March 11.
The theme of this year's parade, which begins in front of Mission San Buenaventura at 10 a.m., is "The Sporting Life: The Games We Play."
While best known for her athletic endeavors – in 2010 the Ventura resident became the first woman to ride China's Qiantang River tidal bore, the largest and fastest bore in the world – Osborne also is a women's sports advocate, environmentalist, writer, model, TV personality and businesswoman. She has been ambassador to the United Nations Environmental Safe Campaign, the 5 Gyres Institute, Project Save Our Surf, a Patagonia ambassador, and in 2015 was guest of honor at the Women's Sports Foundation's annual event.
The whole county will be turning out in green on Main Street. Last year's parade drew over 90 entries, including floats sponsored by civic groups, nonprofits and local businesses and restaurants; marching bands; car clubs; horses; clowns and the Biggest Green Pig in the World. There also will be high school pep bands, youth groups and fun-loving adult groups entered in the parade.
In the spirit of this year's parade theme, the organizing committee also encourages Ventura County teams from all sports and from every age group to join in the parade. That includes school teams, Little League and adult league baseball teams, football, softball, soccer and basketball teams. Individual sports enthusiasts such as skateboarders, golfers, bowlers and swimmers also are invited.
The Ventura County St. Patrick's Day Parade, which ends at Laurel Street, is presented by the Ventura Elks Lodge #1430. The event's committee is accepting entries for the parade. For entry forms or more information about the parade, visit www.venturastpatricksdayparade.com, email Jim Monahan at [email protected]  or call him at  643-4275 or email Nan Drake at [email protected].