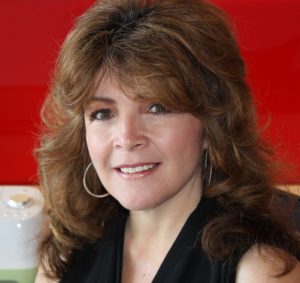 by Sheli Ellsworth
Crafting taken to new heights! How would you like to have your own crafting space? One of a Kind Design Studio invites crafters at all levels to come in and explore their creative side. Located at 4915 Verdugo Way in Camarillo, the studio offers workshops, classes, supplies and equipment for the inspired craftsperson.
Owner and 30-year Ventura County resident Lorraine Carrillo says, "I love it when people bring in an original idea and I can help them turn it into a finished product! Usually a customer finds a sample on Etsy or Pinterest and shows me photos.  We come up with a design, the customer can cut and assemble, or I cut the materials and they take them home to assemble or I do all of it."
The studio has a state of the art Cricut Machine capable of die cutting custom invitations, announcements, scrapbooks, etc. "DIY crafters can walk in and rent a workstation equipped with a computer and Cricut machine which can cut vinyl, iron on, paper and poster board."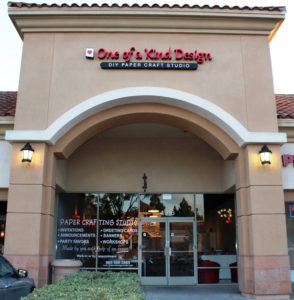 Carrillo has been paper crafting for over a decade. She managed an annual awards celebration for a fortune 500 corporation for over five years. "I knew these annual events were a success by the comments and appreciation that I received from the participants. They would come to me and say 'this is your calling.'"
Workshops in glass etching, paper projects, making wooden signs and home décor are also offered and the costs include materials. "Glass etching for special occasions can be done with customized templates to commemorate military service, anniversaries, retirements and other personalization." Carrillo says wooden signs are also popular right now. "They can be painted or custom vinyl with quotes, themes, etc. can be applied."
The studio welcomes walk-ins, but Carrillo has extended hours for consultations, parties and special events. "I offer craft parties for kids and adults. I come up with projects that can be assembled by them or with family and friends." With 12 brothers and sisters, two children of her own and four grandchildren, Carrillo has plenty of kids to mine for inspiration and ideas. "We hope to offer bridal workshops in the near future where the bridal party can come and create invitations, banners and decorations."
Carrillo who is originally from Albuquerque, NM says, "I love living here. The weather is fabulous and I like the beach. I'm jealous of people walking their dogs. I've had three English bull dogs but right now I am too busy for a dog, but there is probably one in my future."
The next time inspiration strikes, call 586.3885 and ask for Lorraine or go to 1ofakinddesignstudio.com.